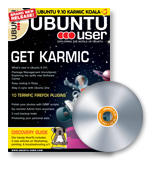 Buy this issue as a PDF
Digital Issue: Price $15.99
(incl. VAT)
Issue 3: Get Karmic
Whether you're a beginner or a seasoned veteran, you'll find something you can use in every issue of Ubuntu User magazine. This time we look inside the new Karmic Koala release and show you some powerful tools for the Ubuntu desktop.
Table of Contents
News
Who We All Are: Learn how one Ubuntu LoCo Team came together to help their town.
What's New in Ubuntu 9.10: The Karmic Koala release is finally out in the world – find out what's inside.
Meet Steve Langasek: Ubuntu's release manager is always at the edge of the next release.
Features
Remote Control: You don't need a cross-town commute to help a user in distress.
GIMP Scripts: Touch up your photos with these fabulous GIMP scripts.
Software Center: Welcome to Ubuntu's newest package management system.
Top 10 Firefox Add-ons: The 10 best Firefox extensions.
Xubuntu: This lean, mean Ubuntu variant is perfect for old hardware.
Know-How
Ruby: Let to know this powerful and easy-to-learn programming language.
Ubuntu Tweak: Customize your desktop with this system settings helper.
digiKam: Let this KDE digital photo manager organize and edit your images.
Easy Backup Tools: Now's the time to protect your data with a reliable backup solution.
Answerbuntu: Ubuntu Forums admin Mike Basinger answers some questions about hardware and software problems.
Desktop
Transmission BitTorrent Client: Download files faster with Ubuntu's built-in BitTorrent client.
Directory Encryption: Preserve your privacy by encrypting your user directories.
Rawstudio: This powerful photo app lets you view your images in the raw format used by your camera.
Ubuntu One: This file synchronization newcomer provides online storage for files you access from multiple desktops.
Discovery Guide
Installing Ubuntu
Exploring the Desktop
Installing Software
Security
Networking
File Sharing
Printing
Troubleshooting
On the DVD
Ubuntu 9.10 "Karmic Koala" – 32-bit and 64-bit versions on a double-sided DVD
Sample Articles
Everyone is welcome to join an Ubuntu LoCo Team, which can serve not only its own membership, but its greater community, too.

006-006_jono.pdf 1.03 MB
The latest Ubuntu release offers new tools, faster boot times, and many fewer of those pesky paper cuts.

007-009_whatsnew.pdf 3.76 MB
The best time to worry about a backup solution is before you need it. Read on for a roundup of some easy backup tools.
048-051_BackupTools.pdf 2.52 MB