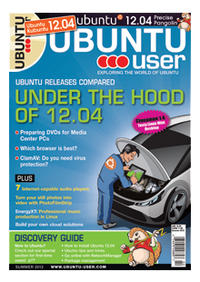 Buy this issue as a PDF
Digital Issue: Price $15.99
(incl. VAT)
Issue 13: Under the Hood of 12.04
Ubuntu 12.04 boasts Unity improvements and the Head Up Display, updated software, and long-term support. Will the new release help Ubuntu reach its goal of 200 million users by 2015? Upgrade your system and take it for a spin.
Table of Contents
Welcome to Ubuntu User: Developers kicked out an Ubuntu worthy of long-term support, but have users wrapped their heads around Head Up Display?
News:
Comment: Change is good?
Who We All Are: Ubuntu's Community Manager explains plans for building a new application developer community.
Interview with Pete Graner: Pete Graner led the Ubuntu Kernel Team when we interviewed him in our first issue. He updates us on his current role as the Engineering Manager and the newly formed Release Engineering Team.
Features:
Upgrade 11.10 to 12.04: With long-term support lined up, Ubuntu 12.04 is worth the upgrade.
Ubuntu 12.04 vs 10.04: What should you expect when you upgrade from the 10.04 LTS release?
Ubuntu 12.04 vs 11.10 vs 10.04: We test three Ubuntu releases to see which one wins the battle of the *buntus.
ECOPC: Is this power-conscious PC praise worthy?
Interview with Richard Collins: Preview Ubuntu for Android.
Cinnamon 1.4: Linux Mint savors the Gnome 2 desktop with Cinnamon.
Ubuntu Developer Summit: Developers and Ubuntu community members gathered in Oakland to plan the next release.
Know-How:
Build Your Own Cloud: Use Sparkleshare and ownCloud to build your own cloud solution.
ClamAV: We check out the strength and weaknesses of the free ClamAV antivirus solution.
Browser Benchmarks: We benchmark four browsers to see which one browses best.
Answerbuntu: Find out how to go back to Gnome 2.x and learn some Unity shortcuts.
Firewalls: Do you need a firewall on Ubuntu? We investigate this hot topic.
Advanced Packaging Tool: Learn how to install and manage software on Ubuntu from the command line with APT.
Tools for Managing Hard Drives: Keep an eye on your hard drive with help from handy tools.
Desktop:
OpenVPN Client: Secure your data and protect your surfing privacy with the OpenVPN software.
GCstar: Organize collections with the GCstar collection manager.
PhotoFilmStrip: Animate your vacation photos and add background music with PhotoFilmStrip.
EnergyXT: Produce music with EnergyXT, a clever commercial solution.
7 Internet-Capable Audio Players: We compare seven audio players for Ubuntu.
Automating DVD Conversion: Prepare your DVDs for media center PCs.
Discovery Guide:
Installing Ubuntu 12.04
Network and Updates
Packet Management
Ubuntu Tips
Multimedia
Sample Articles
What do you think about Unity, now that it is starting to mature? And how are you feeling about HUD?
Jono explains the different expectations around building a new community.
The Ubuntu Developer Summit, which was co-located with the first Ubuntu Cloud Summit, brought together developers and community members to plan for the next Ubuntu release, "Quantal Quetzal." We look at a few UDS-Q highlights and the IT infrastructure required to pull off the event.
In this issue, my column will be focused on Unity and common questions associated with it.
If you want to capture the attention of your slide show viewer, you need to offer something special. PhotoFilmStrip not only animates your photos, it adds music, too.
Using virtual private networks can provide some data security in environments such as Internet cafés and areas with public access points.
058-059_openvpn.pdf 300.27 kB