Explore the night sky with Stellarium
Extras
If you've configured oculars, you might notice that Stellarium provides some extra plugins (Figure 7). Among other items, you can download historical supernovae data. Be sure to click Load at startup when you configure the downloads. Then, go to the About tab and click the here link to open the "Historical Supernovae plugin" web page to obtain the SN numbers.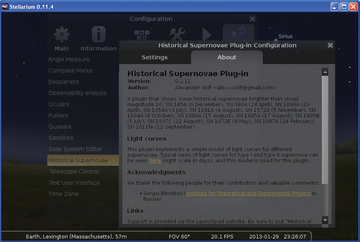 The SN number includes the year of the event and the web page lists the day and month. Stellarium also lets you control a "GoTo" telescope, although I wasn't able to test it due to lack of the right hardware.
Conclusion
Stellarium proves to be an incredibly versatile tool for amateur astronomers and covers all their needs. Beyond its purely scientific core components, Stellarium also provides some interesting material for those interested in the world's astronomical cultures.
The focus still remains on capturing a realistic view of the sky and its objects. It goes as far as the ability to select the environment and view a celestial object by telescope. Despite its complexity, all the necessary steps for configuration are child's play.