Editing easy texts and code with Scribes
Help at Your Fingertips
As a program deliberately set on a simple and restrained interface, Scribes supports the use of keyboard shortcuts. The longer and more intensively you work with the software, the easier it gets. If you don't remember a shortcut, you can always call up help in the form of an overlay. The help comprehensively shows you every shortcut.
To get to the help, go to the sensitive area of the program window and when the icon bar appears, click the question mark symbol. Scribes lists all the shortcuts by topic (Figure 3), including many that make editing text easier.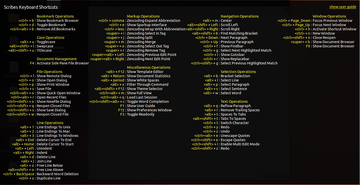 At the Terminal
When you're writing scripts, Scribes can extract commands right from the editor and execute them. To do so, mark the text or place the cursor in the editor window. Use Alt+X to open an entry field at the bottom, where you drag the desired command. With the list box on the right side, you can decide if you want the command results in a new window or the actual file. Pressing Enter executes the command and sends the result to the desired location.