Zentyal Server 3.5
Upgrade
Keeping a server system up to date is an obligatory task that admins have to carry out from time to time. Zentyal also provides an easy-to-use procedure for this process. At server startup, the system determines the available updates and lists them in the overview of the input screen. Because server systems are rarely restarted, however, users will find Software Management for daily use on the left in the program window under Core . This includes the entry System Updates among other things.
One click opens a list of all waiting updates, where security updates show a small red shield. To install an update, checkmark the box in the Update column . This step allows you to update the system or just specific components. Finally, you can start the process by clicking Refresh (Figure 6).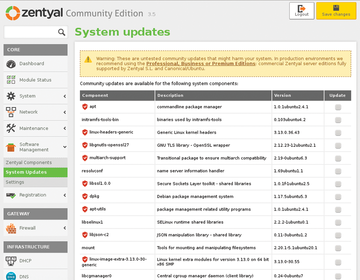 Conclusion
The Zentyal server configuration makes problems during the server installation and during the use of different services a thing of the past. The system is highly stable, easy to use, and offer a wide range of services.
The Zentyal server also scores well in heterogeneous environments. For less experienced admins, Zentyal also allows quick and easy installation and configuration of modules.