Would you like to help with maps.ubuntu.com?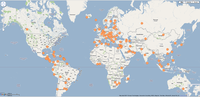 Looking for a way to get involved in the Ubuntu Community? Ahmed Kamal of Ubuntu Community Team at Canonical has posted a call for help for anyone who wants to Help Shape Ubuntu.Maps.Com.
Kamal says in his post, "About eight months ago, I had started on a fun little project to raise awareness of how widely used Ubuntu Server is around the world." The fun little project Kamal is referring to is of course maps.ubuntu.com, the nifty web app that allows people to mark where Ubuntu Servers are being used.
Kamal notes that active Ubuntu community member Ronnie van den Crommenacker wants to breathe some new life into Kamal's original project.If you would like to help, you can review and enhance the proposed API, write Python code to implement the backend API, write HTML/CSS/JS for the front-end, test code and report bugs.
For more information see Kamal's blog post.