Creating bootable USB Drives with Etcher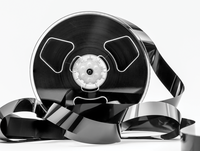 Safe Recording
Etcher is an easy-to use graphical tool for making a bootable USB from an ISO file.
As a rule, distributions can be downloaded from the Internet as ISO files. If you are not using the file in a virtual machine, you will have to put it on a bootable data storage device. Previously, CD/DVD burners took on the task of putting an ISO image on a fresh medium. Nowadays, USB drives and SD cards have become the medium of choice.
This change has occurred for a number of reasons. For one thing, most handheld computers like notebooks and compact ultra books no longer come with an optical drive. With the introduction of USB 2.0 specifications, the USB interface allows for enough speed to start an entire operating system within an acceptable amount of time. Currently, USB 3.0 lets high performance sticks achieve transfer rates of over 200MBps. These rates far surpass those for optical drives.
Under Linux, there are several, well-established tools that can easily create a bootable USB drive. Even so, the old adage "the devil is in the details" is definitely applicable here. Many ISO files do not start by themselves from a USB. At the very least, you will have to carefully prepare the drive before loading the image.
[...]
Use Express-Checkout link below to read the full article (PDF).