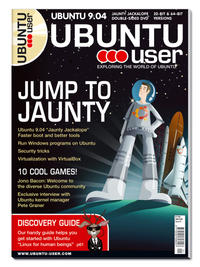 Buy this issue as a PDF
Digital Issue: Price $15.99

(incl. VAT)
Issue 1: Jump to Jaunty
The first issue of Ubuntu User magazine flew off newsstands in Spring 2009, but now you can download the free digital version of Ubuntu User #1! Don't miss another issue – Subscribe today!
Speed was the theme for the latest Ubuntu development effort, so what could be a better symbol than a mythical creature that is half antelope and half jackrabbit? Jaunty Jackalope offers faster boot times and lots of other improvements. This issue of Ubuntu User includes a double-sided DVD with 32-bit & 64-bit versions of Jaunty Jackalope
Table of Contents
News
New Features: Jaunty Jackalope offers faster boot times, notifications, desktop improvements, and more.
Who We All Are: Jono Bacon welcomes you to the diverse universe of Ubuntu.
Features
Virtualization: We show you how to operate virtual environments from your Ubuntu desktop.
10 Great Games: Relax! You work too hard! We tour some top picks for great gaming in Ubuntu.
Interview: Pete Graner: Ubuntu's Kernel Manager talks about development and community.
Know-How
Graphics Cards: Learn how to configure accelerated graphics cards in Ubuntu.
UFW Firewall: Secure your system and keep intruders out with a personal firewall.
Wine: Maybe you don't have to give up Windows programs after all. Learn how to run Windows applications on Ubuntu with Wine.
Building a Website: Learn about some tools for building and publishing web pages.
Integrating Debian Packages: We show you how to create custom Ubuntu software packages using Debian package format.
Answer Man: Get answers to questions about playing DVDs, setting up email, installing from a USB stick, fixing the Ubuntu boot menu, and more.
Desktop
Gnome Do: Search engines meet the application launcher with the handy Gnome Do tool.
FreeMind: Looking for inspiration? We show you how to visualize your best ideas with this useful mind-mapping app.
Celtx Authoring Software: This easy authoring tool is the perfect companion for a dark and stormy night. We show you how to compose comics, movie scripts, and novels with Celtx.
Synergy: Control multiple PCs with a single keyboard and mouse.
Environment Variables: We show you some terminal tricks for working with environment variables.
Discovery Guide
Peek inside for a practical introduction to Ubuntu, including tips on installing, configuring, and exploring your new Ubuntu system.
Installing Ubuntu
Exploring
Networking
Security
Printing
Multimedia
Burning CDs
Managing Photos
Installing Software
Configuring Email
Taking Notes
OpenOffice