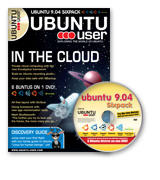 Buy this issue as a PDF
Digital Issue: Price $15.99

(incl. VAT)
Issue 2: In the Cloud
Issue #2 of Ubuntu User looks at Ubuntu in the Cloud! We offer an exclusive interview with Canonical founder Mark Shuttleworth, and our 6-pack DVD is packed with Ubuntu goodness: Ubuntu Live, Kubuntu Live, Xubuntu Live, Edubuntu, Ubuntu Studio, and Easy Peasy.
Table of Contents
News:
Community manager Jono Bacon explores the Ubuntu spirit
Exclusive interview with Mark Shuttleworth
Features:
Audio expert Dave Phillips sets up a home studio using free tools.
Eucalyptus: Why pay for cloud services when you can set up a private cloud?
Krita & Karbon: These useful graphics tools wait just beyond the default GUI.
One Man's Path to Linux: Find out why one user chose to leave Windows for Linux.
Know-How:
Terminal Tricks – Data Flow: Build a chain of commands for more efficient processing.
Shell Scripting: Save time and keystrokes by automating frequent tasks.
SBackup: Preserve your data with this backup tool for the Ubuntu desktop.
Answerbuntu: Forums admin Mike Basinger looks at XP migration, password length, and other Ubuntu issues.
System Monitor: Monitor your system and stay ahead of performance bottlenecks.
Desktop:
Scribus: Build your own newspaper or magazines with this powerful open source layout tool.
Ikiwiki: Ikiwiki is not your average wiki. We'll show you an innovative app that turns your documents into HTML.
Mnemosyne and Anki: Why stay up all night? Prepare for your next exam with these nifty memorization tools.
Conduit: Losing track of your documents? This terrific traveling tool lets you sync your files across different platforms and devices.
Discovery Guide:
Installing Ubuntu
Security
Exploring
Networking
Printing
Multimedia
Burning CDs
Managing Photos
Installing Software
Configuring Email
Taking Notes
OpenOffice.org