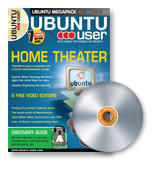 Buy this issue as a PDF
Digital Issue: Price $15.99

(incl. VAT)
Issue 4: Home Theater
This month we bring you more great tools for the Ubuntu environment. You'll learn how to set up a home entertainment center with Mythbuntu and how to record your favorite programs with Freevo. We also introduce your to Canonical's new CEO.
Table of Contents
News
Welcome to Ubuntu User: Our new senior editor, Marcel Gagné, remembers the fun.
Who We All Are: Jono talks about improvements in the upcoming Lucid Lynx release.
Ubuntu-Women Project: Project leader Amber Graner reports on the Ubuntu Women project.
Jane Silber: Meet Canonicals's new CEO.
UDS Lucid Lynx:Ubuntu users and developers gather in Dallas to talk about the next release.
100 Paper Cuts: Ubuntu's innovative 100 Paper Cuts project has an eye on usability. We interview chief paper cutter David Siegel.
Features
Ubuntu User DVD: Learn more about the free DVD enclosed with this issue.
What's New in Wine: Karmic Koala includes some improvements that make it easer to run Windows apps with the Wine API.
Mythbuntu: Mix the MythTV media center with Ubuntu and you get Mythbuntu.
Freevo: Looking for a DVR without the DRM? This open source home theater app keeps your favorite programs in focus.
Video Editors: Linux multimedia expert Dave Phillips rounds up some of Ubuntu's best video editors.
Netbook Distros: Several Ubuntu-based distros bring Linux to the netbook.
Know-How
Webgen: This powerful tool lets you build whole websites in half the time.
Aria2: One tool helps you manage downloads from several protocols.
Scribus: Create your own newsletters, brochures, and magazines with this powerful publishing tool.
Upstart: Learn why your new Ubuntu system starts processes more efficiently.
Answerbuntu: Get answers for your Ubuntu configuration questions.
Desktop
Writer's Cafe: This nifty desktop app will help you write a novel or play.
Machinarium: Journey to a space-age junkyard with this weird adventure game.
Microblogging: Check out these open source social networking tools for the desktop.
Amarok: Get your groove on with KDE's excellent music player.
Gedit: Plenty of plugins make Gedit much more than just a text editor.
The Battle of Wesnoth: Why is this multi-player strategy game so popular?
Discovery Guide
Ease into Ubuntu with our updated Discovery Guide:
Secure Browsing
Configuring with Tweak
Terminal Time
Scripting
On the DVD
Ubuntu 9.10 Megapack: 7 *buntus on one DVD!
Ubuntu, Kubuntu, Xubuntu, Edubuntu, Linbuntu, Ubuntu Studio, Ubuntu Netbook Remix