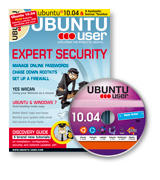 Buy this issue as a PDF
Digital Issue: Price $15.99

(incl. VAT)
Issue 6: Expert Security
You can never be too careful about protecting your system from intruders. This time, we put the focus on security. Marcel Gagné explores the Firestarter and Firewall Builder tools, then we show you tools for hunting rootkits and managing passwords.
Table of Contents
News
News: Canonical becomes Associate Member of OIN, Certification program renewed, Ubuntu One code available.
Letters
Features
Firewalls: Protect your network with Firestarter and Firewall Builder.
Hunting for Rootkits: Root out the bad guys with chkrootkit and rkhunter.
VirtualBox: Why reboot? You can virtualize Windows, Linux, and Unix systems with VirtualBox.
Webcam: The WL-404 webcam connects directly to you network.
Know-How
Tiny Tiny RSS: A web front end lets you use this aggregator on any Internet-capable computer.
Scripting: Until you understand Bash loops; do read this article; done!
Dual-Booting Windows 7 You'll need a few extra steps to ensure Ubuntu boot capability.
NTFS: Ntfs-3g brings harmony to accessing Windows NTFS partitions.
PlayOnLinux: Running your Windows game on Wine is easy with this graphical front end.
Wiican: The Wiimote can act as a mouse substitute or a presentation remote.
Email Notification: When you're responsible for far-flung computers, keep track of performance and problems by email.
Desktop
Back In Time: Backing up and restoring your data has never been so easy.
Eschalon: Book II: A sprawling, role-playing game.
Subsonic: This media streaming server lets you manage your music anywhere.
Anaphraseus: Say it in several languages with this computer-assisted translation app.
Discovery Guide
If you are new to Ubuntu, these tutorials will help you put the cat in the bag.
Installation
Configuration
Security
Update
On the DVD