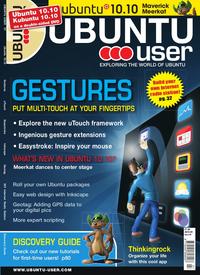 Buy this issue as a PDF
Digital Issue: Price $15.99

(incl. VAT)
Issue 7: Gestures
Maverick Meerkat is here and ready to rock! In this issue, we describe Ubuntu's new features and take a special look at uTouch, Ubuntu's new multi-touch framework. Plus, interviews with Chris Kenyon and Mark Shuttleworth point to new directions.
Table of Contents
News
Welcome to Ubuntu User: Marcel welcomes Maverick Meerkat and ponders gesture-based interfaces in movies and real life.
Jono's Column: It's Jono's four-year anniversary with Canonical, but he's looking to the future.
Interview: Chris Kenyon wants Ubuntu pre-installed everywhere.
News: Mark Shuttleworth on the new uTouch framework, Google open sources Liquid Galaxy, Ubucompilator beta release, Canonical demos a brand new user-aware framework prototype.
Letters
Features
What's New in Ubuntu: An improved Software Center and multi-touch support.
Enabling Gestures with Extensions: Marcel examines gesture capabilities in various browsers.
Ubuntu's uTouch Framework: Ubuntu brings multi-touch to the masses.
Easystroke: This easy tool lets you define mouse gestures to control your computer.
Keeping an Eye on Things: The Sighttpd streaming server transmits audio and video over the web.
Know-How
Music Player Daemon: Set up your own Internet radio station with MPD.
Easy HDR: High Dynamic Range (HDR) photography doesn't have to be hard.
Thinkingrock: This cool tool helps you keep your life organized.
Inkscape for the Web: Put the Inkscape vector editor to work as a web design tool.
Answerbuntu: Get answers to your Ubuntu configuration questions.
Building Packages: We show you how to build and rebuild Ubuntu packages.
Scripting: Use these Bash scripts to automate repetitive tasks.
Desktop
K3b: Here's your one-stop app for burning and ripping CD and DVDs.
Geeqie: View, sort, and fly through your digital images.
Geotag: Add geographical reference data to your pictures.
Minitube: Smooth out your Flash videos without using Adobe Flash.
Discovery Guide
If you are new to Ubuntu, these timely tutorials will help you get started:
Configuration
Network & Updates
Printing & Scanning
Security
On the DVD