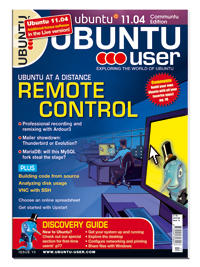 Buy this issue as a PDF
Digital Issue: Price $15.99

(incl. VAT)
Issue 10: Remote Control
In this issue, we show you how to set up tunneling to prevent password theft, track down the biggest disk space users, and set up remote administration. We also show you how to switch from Unity to KDE and even create a custom Ubuntu distro.
Table of Contents
News
Welcome to Ubuntu User: Join us as we plot a course for the future.
Who We All Are: Taking Ubuntu to the masses.
News: Novacut needs money, Oneiric's cure for paper cuts, Google launches Google+, How much GNU is in Ubuntu?, Dapper bows out.
Interview – Ubuntu QA Team: We talk with Ubuntu QA lead Pete Graner and his team about improvements to the QA process.
Features
Ubuntu in Schools: We visit an all-Ubuntu high school in Germany.
Communtu: Learn how to roll your very own Ubuntu distro with the Communtu project.
Remote Access – NoMachine: Marcel explains how to use NoMachine for remote administration.
Ardour3: Get your groove on with the latest release of the Ardour music production suite.
SSH and VNC: Make your system less vulnerable to intrusion with key-based authentication.
Upstart: Get to know Upstart, an important event-based daemon for managing processes.
Know-How
Configuring KDE: Use these practical tips to switch from Unity to KDE.
Analyzing Disk Usage: Track down the biggest space hogs on your system.
Building Source Code: We take the fear out of building source code from scratch.
MariaDB: Check out MariaDB, a new fork of the MySQL database.
Answerbuntu: Get answers for your Ubuntu questions.
Desktop
Spreadsheets: We compare the features of open source online spreadsheets.
Thunderbird vs. Evolution: We compare two leading open source mailers.
Kupfer: This handy application launcher provides quick access to documents.
4Pane: Meet the 4Pane file manager.
XplanetFX: Bring beautiful images of space to your desktop.
Rainlendar: Check out this cool calendar program.
Discovery Guide
If you are new to Ubuntu, these timely tutorials will help you get started.
Installing Ubuntu 11.04
Installing Software
Security
Networking
Samba
Printing