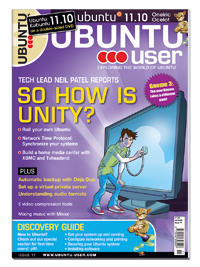 Buy this issue as a PDF
Digital Issue: Price $15.99

(incl. VAT)
Issue 11: So How is Unity?
In this issue, we introduce you to the improved Unity desktop. You'll also learn about Gnome 3, and we check in with Rick Spencer, Canonical's Director of Engineering, on Canonical's relationship with the Ubuntu community.
Look for the newest Ubuntu User on newsstands starting:
Europe: March 26
North America: April 20
Australia: May 21
Or save money and subscribe now!
Table of Contents
News 
Welcome to Ubuntu User: Explore the new UI and help document Ubuntu-friendly hardware.
Who We All Are: Jono looks at the next long-term support release, Ubuntu 12.04 LTS.
News: Ubuntu App Developer site, Ubuntu One for Windows, Ubuntu Manual Project Team wants you, Predatory? Primeval? Possum? Pony? Ubuntu picks an animal and adjective for the 12.04 release, New Gnome and KDE.
Interview – Rick Spencer: How will changes in the community affect Ubuntu?
Features
Unity in Oneiric: Unity technical lead Neil Patel weighs in on the latest changes to the Unity shell.
Gnome 3.0: User interfaces, they are a-changin'. A look at the new Gnome 3 desktop.
Ubuntu Remastering: Make your own Ubuntu with Customizer.
NTP: The Network Time Protocol, NTP, has a subtle but important function. We show you how to check it, correct it, and connect to an NTP server.
Know-How
Déjà Dup: Backups made simple.
Setting Up a VPS: Sharing's not for everyone. Create your own virtual private server.
Codecs: Do MPEG-4, WebM, and OGG make you blanch? We guide you through the maze of video formats.
Personal Video Recorder: With XBMC and Tvheadend on Ubuntu, you can create a full-fledged media center.
Security: Establish secure browsing with Privoxy, chkrootkit, Rootkit Hunter, and Unhide.
Answerbuntu: Our Ubuntu fix-it guy, Mike Basinger, talks about user problems with bootloaders, video drivers, and webcams, as well as backing up music collections.
Desktop
Video Converters: Want your videos to play on multiple platforms? We introduce six tools that can help.
Mind Mappers: Four mind-mapping apps can help you organize your thoughts.
Mixxx: Digital DJing with Ubuntu and Mixxx.
Discovery Guide
If you are new to Ubuntu, these timely tutorials will help you get started.
Installing Ubuntu 11.10
Networking
Security
Installing Software