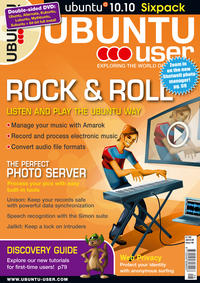 Buy this issue as a PDF
Digital Issue: Price $15.99

(incl. VAT)
Issue 8: Rock and Roll
In this issue, we take a special look at Ubuntu apps that will help you manage your music collection, archive and process digital photos, watermark your images, convert audio files, and even record your electric guitar.
Table of Contents
News
Natty Narwhal to feature Xfce 4.8.
System 76 announces a powerful new laptop.
Qt libraries coming to Ubuntu's default install.
Jono's column: Putting the power of the people into Ubuntu.
Interview with Robbie Williamson: We ask the new manager of Canonical's Ubuntu Server team about his latest role.
Letters
Features
Amarok: The Amarok media player rocks the house.
Internet Privacy: Stay anonymous with safe surfing tools like Tor, Vidalia, and Polipo.
TestDrive: This cool tool lets you try Ubuntu's latest development snapshots.
Photo Server: Build your own dedicated photo server to manage common tasks.
Making Music: Discover some expert tools for making your Ubuntu system play in harmony with musical instruments.
Know-How
Konvertible: KDE's Konvertible kwikly konverts audio files from one format to another.
Answerbuntu: Get answers to your Ubuntu questions.
Jailkit: Secure your systems with a chrootbased jail shell environment.
Unison: Synchronize your computers and back up data with this powerful cross-platform tool.
Digital Watermarking: Watermarking will help you safeguard your digital images.
Wayland: Find out what the switch from the X Window System to Wayland will mean for developers and users.
Scripting: Automate interactive processes with the Expect scripting environment.
Desktop
Beets: Organize your music collection and listen to your tunes from the command line.
Simon: Explore voice commands with this speech recognition suite.
Liferea: This handy app will help you get the very latest news and podcasts from your very favorite websites.
Sketsa: Create scalable vector graphics with the Sketsa SVG editor.
Shotwell: Organize your digital photos with Ubuntu's new default image manager.
Discovery Guide
If you are new to Ubuntu, these timely tutorials will help you get started:
Installation
Configuration: Ubuntu One
Network & Updates
Printing & Scanning
How-To: Nautilus
On the DVD