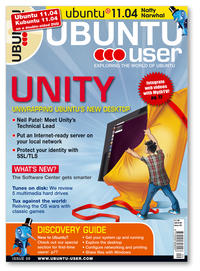 Buy this issue as a PDF
Digital Issue: Price $15.99

(incl. VAT)
Issue 9: Unity
In this issue, we unwrap the Natty Narwhal release of Ubuntu and take an in-depth look at the controversial Unity desktop. We show you what's changed and what's stayed the same, and we provide tips for getting the most out of this new release.
Table of Contents
News
Welcome to Ubuntu User: We welcome the stylish new Ubuntu and say, not goodbye, but au revoir, to our senior editor.
Who We All Are: Bringing the strength of diversity to Ubuntu development.
News: Firefox 4 released, App previews come to the Software Center, Elementary OS unveils Jupiter, End of life for Ubuntu 9.10
Neil Patel Interview: We get the scoop on Unity from the Technical Lead for the Unity Desktop Experience team.
Features
New to Ubuntu 11.0: Natty Narwhal offers a new desktop, a new audio player, and more.
Exploring Unity: Unity's keyboard shortcuts are just one highlight of this new interface.
Natty Narwhal Server: Ubuntu's server version includes some powerful tools you won't find on the desktop.
Open Movie: Sintel, from the Blender Foundation, is another kind of open project.
My Script Stylus: This app can recognize handwritten instructions on your tablet PC.
Know-How
Backups: Grsync and Gnome Schedule allow easy backup and recovery.
Put Your Server on the Internet: Set up port forwarding and DynDNS to access your servers on the go.
Social Security: Protect your identity online with the SSL/TLS protocols.
GoldenDict: Integrate all your knowledge bases into one searchable resource.
Answerbuntu: Mike Basinger answers your Ubuntu questions.
Desktop
Multimedia Hard Disks: We put five multimedia players through their paces.
BlazeBlogger: This no-frills blogging tool lets you easily maintain your blog from the command line.
Calibre: Manage your e-books with this cross-platform app.
Penguin Power: Blast viruses and overcome evil empires in these Linux games.
SyncEvolution: Keep all your devices in step with SyncEvolution.
MythTV: Add Internet videos to your DVR playlists.
Discovery Guide
If you are new to Ubuntu, these timely tutorials will help you get started:
Installing Ubuntu 11.04
Installing Software
Security
Networking
Samba
Printing
On the DVD