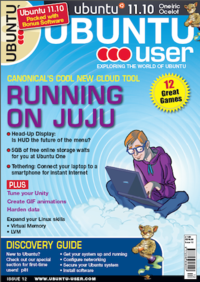 Buy this issue as a PDF
Digital Issue: Price $15.99

(incl. VAT)
Issue 12: Running on Juju
We dive into the Ubuntu Cloud with the juju program, charms, and Ubuntu One. We also look at where the menu is headed with Head-Up Display and teach you how to tether your mobile device, animate GIFs, and record Skype calls.
Table of Contents
Welcome to Ubuntu User
Navigate the Ubuntu Cloud with the juju program and free cloud storage.
Who We All Are: Your journey through the Ubuntu community got easier to navigate and is marked with trophies.
News

Ubuntu Server Survey results
Canonical ends funding for Kubuntu development
Shuttleworth shakes up the menu with Head-Up Display
New website for Xubuntu
Ubuntu Business Desktop Remix rolls out

Interview with Mark Mims: Ubuntu Server Team Software Engineer Mark Mims explains orchestra, juju, Charm School, charms, and Canonical's plans for the Ubuntu Cloud in the 12.04 release.
Ubuntu 11.10 DVD: Chromium, FileZilla, Dropbox, VLC,
VirtualBox, Wine, winetricks, K3b, Audacity, Clementine,
digiKam, Panorama, Pidgin, OpenShot, and much more!
Features:
LVM Basics: We walk you through a hands-on example of Logical Volume Manager.
Ubuntu One: Access 5GB of free online storage in the Ubuntu One cloud storage service.
Ubuntu Tips: We focus on practical tips for Unity and its components.
Shortcuts: Get a grip on grep with a few simple shortcuts and switches.
Data Hardening: Dig into data hardening techniques.
Ubuntu Friendly: How friendly is your system?
Edit Text with nano: Text editing with the modest nano.
Answerbuntu: Answers to your keyboard woes and DVD playback failures.
Image Metadata: Open source metadata solutions enter the market.
Unity Tuning: A few tips will help you tweak your Unity.
Animate Images: See how to create killer animations with a few tools and GIFs.
Y PPA: Use your personal package archive with Ubuntu.
Quicklists: We explain how you can accelerate program launches with Quicklists.
Skype Recorder: Would you like to record your Skype calls on Linux? We show you how.
Games: All work and no play makes for a lackluster Linux. We test 12 games.
Discovery Guide:
Installing Ubuntu 11.10
Networking
Security
Installing Software