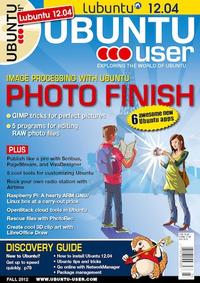 Buy this issue as a PDF
Digital Issue: Price $15.99

(incl. VAT)
Issue 14: Photo Finish
Say "Cheese!" In this issue, we focus on photography. GIMP 2.8 was unveiled in May and boasts impressive updates. We give you a tour of GIMP's new features. We also offer tricks for touching up images and present five programs for editing RAW photo files.
Table of Contents
Features:
GIMP 2.8: Years in the making, the latest GIMP was worth the wait.
GIMP Tricks: Perfect your photos with a few GIMP tricks.
RAW Converter: Five converters can help you get the most out of RAW data files.
Raspberry Pi: Learn about a delicious ARM/Linux box at a drive-through price.
Know-How:
Data Recovery with PhotoRec: Didn't mean to delete? Rescue discarded files with PhotoRec.
Bash Workshop: Find out how to perform computational exercises with Bash.
OpenStack in Ubuntu: Does OpenStack deliver what Ubuntu marketing promises?
5 Customizing Programs: Roll your own distro with help from a handy customizing solution.
App Showdown: We try out six new productivity apps for Ubuntu.
Answerbuntu: Q&A with the Ubuntu Forums admin, Mike Basinger.
Desktop:
Clip Art with LibreOffice: See how to create 3D Clip Art with LibreOffice Draw.
3 Desktop Publishing Programs: We test Scribus, PageStream and VivaDesigner.
Friendica Project: Will the privacy-respecting Friendica replace Facebook for you and your online BFFs?
Accessibility in Ubuntu 12.04: How helpful is Ubuntu 12.04 for the visually impaired?
Airtime: Airtime helps beginners and pros create Internet radio shows.
Discovery Guide:
Installing Ubuntu 12.04
Shortcuts
Network and Updates
Packet Management
Ubuntu Tips
Multimedia