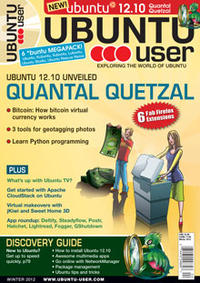 Buy this issue as a PDF
Digital Issue: Price $15.99

(incl. VAT)
Issue 15: Ubuntu 12.10 "Quantal Quetzal" Unveiled
What's new in the latest Ubuntu? We'll tell you what to expect in Ubuntu 12.10. We also take an in-depth look at bitcoin, a virtual currency with real potential, and we interview Will Cook, product manager for Ubuntu TV.
Table of Contents
Letter from the Editor: Ubuntu 12.10 Web apps add convenience but also raise security and privacy concerns.
Who We All Are: Jono Bacon explains how to participate remotely at UDS.
News
David Planella Interview: Ubuntu App Developers Liaison David Planella explains how you can submit the next killer app.
Features:
New in Ubuntu 12.10: Ubuntu 12.10 delivers noticeable changes on the desktop.
Interview with Will Cook: Will we ever see an Ubuntu TV? Product manager Will Cook updates us on Ubuntu TV development.
Bitcoin Basics: Virtual currency isn't just for hackers anymore.
Bitcoin Miner: Did you know that you can mine for bitcoins with Ubuntu?
Bitcoin Clients: We look at four bitcoin clients with different wallet concepts.
Ubuntu Showroom: Learn about seven cool little apps for Ubuntu: Deltify, Steadyflow, Postr, Hatchet, Lightread, Fogger, and GShutdown.
Know-How:
Firefox Extensions: We check out six extensions to turbocharge Firefox.
Answerbuntu: Get answers to Ubuntu questions.
LLVMpipe: Learn about Unity 2D replacement LLVMpipe.
Python Workshop: Our new series gets you started with Python programming.
Ubuntu's App Strategy: Developers can upload apps to Software Center, quickly and easily.
Shortcuts: Learn convenient NetworkManager terminal commands.
Desktop:
Geotagging Photos: We show you three tools for organizing photos geographically.
jKiwi Virtual Makeovers: Give yourself a virtual makeover with the jKiwi program.
Sweet Home 3D: Rearrange your house with Sweet Home 3D, a fun and free virtualization program.
RipperX: Burn audio CDs with RipperX.
Trip to Ghana: Learn about a program delivering Edubuntu to Ghana.
Apache CloudStack: Get started with Apache CloudStack on Ubuntu.
Discovery Guide:
Installing Ubuntu 12.10
Network and Updates
Package Management
Multimedia
Tips and Tricks