Editing videos with OpenShot
Showmanship
To effectively embed clips into a video, OpenShot provides numerous visual and audio effects on the Effects tab that you can apply with a right-click to a clip. Next to the small preview icon on the timeline track is a symbol indicating that the clip has an effect applied.
Apart from the usual adjustments such as brightness and contrast, OpenShot includes, for example, an effect that converts a clip to a kind of living charcoal drawing or a cartoon (Figure 5). You can also add audio effects identified by a musical note symbol.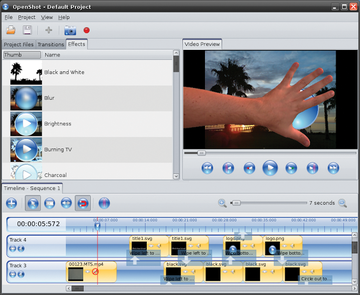 To adjust an effect, right-click the clip and choose Clip Properties . On the dialog of the same name, change to the Effects tab to adjust the parameters. With multiple effects, you need to adjust the parameters for each separately.
Titles
With OpenShot, you can insert simple or animated text in a clip. The functions for it are from the Title | New Title or Title | New Animated Title menu items.
The New Title item is for adding simple two-dimensional titles that are separate project files and can be added as any other file on a track. On the Title Editor dialog under Start here: , choose a template for text position, font, and color. Then, you can click Create new Title and give the title file a name that will appear in the list of files. The software then asks you to enter the title text.
You can adjust the titles after creating them. Right-click the Project Files tab and choose Edit Titles (Simple) . If you have the Inkscape [3] vector graphics editor installed, you can use Edit Titles (Inkscape) , because OpenShot translates the text to SVG graphics.
Another special OpenShot feature is title animation, which you can open with Title | New Animated Title . With help from Blender software (that needs to be at least version 2.62), you can apply elaborately animated content that, for example, explodes or flies into the frame. You can even create scrolling Star Wars-like credits [4].
In the Animated Title Editor , you will find a wide selection of templates for the text (Figure 6). Here, you can choose a template (1), view its preview (2), set its frame rate (3), and modify the 3D settings (5).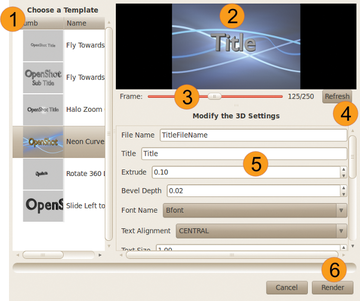 In the settings, you can add the title text in the Title box and other parameters applicable to the effect, such as font name and bevel depth. To see how the settings will apply, click the Refresh button (4) to get a preview. You can then optimize based on the results.
Once everything is set to your satisfaction, click the Render button (6), which, even more than for a preview, is process-intensive enough to noticeably slow results on a weaker computer. You always have the option of canceling the operation.