Get organized with Vault 3 and OutWiker
More Functionality
OutWiker's default functionality can be extended using plugins [4]. Installing plugins is not particularly difficult. Grab the module you want, unpack the downloaded archive, move the resulting directory to ~/.outwiker/plugins , and restart OutWiker.
Although the list of currently available plugins is rather short, it does include a couple of useful modules. The Source plugin [5], for example, adds syntax highlighting functionality, and it supports a wide range of programming languages (Figure 8). Once installed, the plugin adds the Source Code button to the main toolbar and the Source Code command under the Wiki | Commands menu. Click on the button (or use the command) to open the Source Code dialog and choose the appropriate programming language.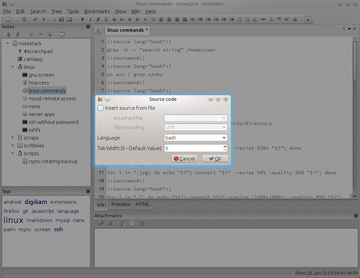 To insert code from a file that is attached to the current page, enable the Insert source from file option and select the file in the Attached file drop-down list. By default, the plugin offers only a handful of languages, but this situation is easy to fix. Choose Edit | Preferences , select the Source Plugin entry, and activate the desired languages. Lightbox [6] is another handy plugin; it displays thumbnails on a page in a light box (Figure 9). The plugin doesn't require any configuration, and it adds the (:lightbox:) command to the Wiki | Commands menu. To enable the light box feature, add the command somewhere in the page.
Final Word
Outliners like Vault 3 and OutWiker are versatile tools that can be put to a variety of uses – from organizing text snippets to keeping tabs on images and files. Vault 3 will most likely appeal to users looking for a no-frills outliner that can run on different platforms, including Android. OutWiker, in turn, is a perfect fit for those looking for a powerful and extensible outlining tool that provides text formatting functionality and offers a raft of clever features.
Vault 3: http://www.ericbt.com/Vault3
Vault 3 for Android: play.google.com/store/apps/details?id=com.ericbt.Vault3
OutWiker: jenyay.net/Outwiker/English
OutWiker plugins: jenyay.net/Outwiker/PluginsEn
Source plugin: jenyay.net/Outwiker/SourcePluginEn
Lightbox plugin: jenyay.net/Outwiker/LightboxEn