Splice and edit videos with Flowblade
Roll Trims
Flowblade even provides an interface for repositioning two clips. The length and position of the both clips are preserved in the timeline. This is known as a two roll trim. The effect is best observed in practice with the trim function. Do this by lining up three clips and cutting the middle of the middle clip in half on the vertical line with X.
Next, position the vertical line on or at least as near as possible to the interface and click the fourth button to the left above the timeline (Two Roll Trim ). Flowblade marks the two clips and adds the two triangles icons on each side of the interface. Now, drag the interface to the middle of the clip on the right. As soon as you release the mouse, the first clip lengthens and the second one gets shorter. The total duration has not changed.
Effects
To assign an effect to a single clip, select it with a right mouse click and look for a desired effect under Add Filter . For example, to convert a video to a black and white creation, choose Add Filter | Color | Grayscale .
You can add many other effects, which Flowblade refers to as "filters." A clip under an effect is signified by a small icon in the upper right of its timeline bar. To set the filter properties, click the Filters tab next to Media (Figure 7).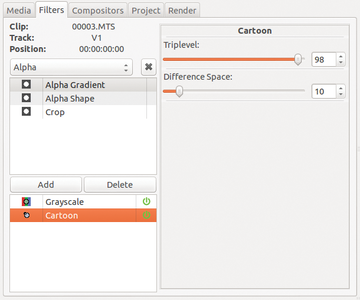 To ensure that you've applied the filters to the correct clip, double-click the clip in the timeline to view the applied filters in a list below. To the right of each filter name is an on/off icon with which you can deactivate or reactivate the filter.
Once you mark a filter in the list, the settings, if any, for it appear in a pane to the right. To remove a filter completely, select it and click Delete . The selection of filters depends on whether you've installed the "Frei0r" effect collection.