Five commercial games
Psychonauts
Children with supernatural and paranormal abilities should naturally be encouraged. Many American parents send their gifted kids to specially tailored summer camps for that purpose. In this game, two gaunt secret agents and a slightly overweight military officer turn the little tykes into so-called Psychonauts. These secret agents are then able to invade people's dreams and thoughts.
In this jump-and-run game, the player controls the fate of little Raz, who wants to become a Psychonaut. The player runs and jumps through the thoughts and dream world of various people (Figure 5). At first, there are only a few new psychic abilities to learn, but later he needs to solve the psychological problems of other people and even animals. To top it all off, a monster is said to be in the woods around the summer camp, and a previous camper wants Raz expelled from the camp – the sooner the better. The situation gets hairy as the brains of the other kids and the camp counselors begin to disappear (Figure 6).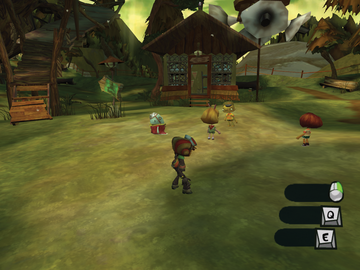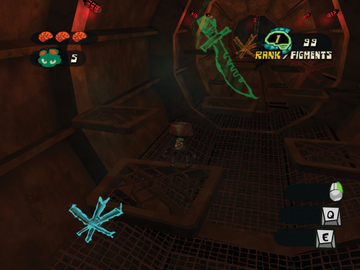 Raz starts learning new skills, such as invisibility and telekinesis, by collecting mirages and postcards laying about. Between trips in people's brains and dream worlds, Raz can talk with other campers, search the woods for items, or stock up with useful tools from the camp store – such as a mental vacuum cleaner that hoovers cobwebs out of thoughts. The abilities and items that Raz achieves help him solve puzzles or fight off enemies.
CONCLUSION: Psychonauts is best described as "wacky." Despite its often comical 3D graphics, the game is not suitable for small children because of its complexity. Nevertheless, Psychonauts is a suspenseful and extremely varied jump-and-run game. The controls are quite tricky; for example, all too often Raz drops in a hole and needs to repeat an action. Fortunately, the reset points are fairly chosen and you can save at intervals.
Psychonauts
Homepage:
http://www.psychonauts.com/
Developer:
Double Fine
Cost:
US$ 10
Age rating:
12 years
Requirements:
Current Linux distributions with activated 3D graphics, minimum 2GHz processor, 2GB RAM
Splice
In the Splice puzzle game, the player gazes through a microscope at a small cluster of cells. The chained cells need to be arranged into a blueprint (Figure 7). To do this, you click one of the cells, separate it from the rest, and paste it onto another cell (Figure 8). Unfortunately, each end of the cell can attach itself to two other cells only. Moreover, the number of splicing possibilities is limited, forcing you to separate large pieces and move them as a unit. Later in the game, nasty things turn up, such as explosive cells. If you've messed up, you can undo a move with the mouse wheel, or you can restart the level with the spacebar.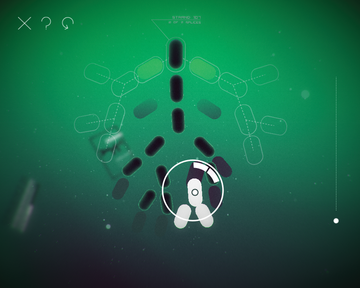 If you've organized one bunch of cells successfully, you can continue with a more complicated group. If you use fewer mouse clicks than suggested, you get a small reward. In this way, Splice motivates you to take up previously played puzzles again. The game provides as many as 49 puzzles, separated into seven groups. Accomplished players can open especially difficult bonus puzzles.
CONCLUSION: Hidden behind the minimalist graphics of Splice is an extremely crisp puzzle game. Because the documentation has been kept deliberately sparse, it's left up to the player to experiment.
The difficulty levels increase gradually but steadily – you might have to tackle a puzzle multiple times before a solution emerges. Splice is thus aimed toward tinkerers who want to flex their own brain cells from time to time.