Five commercial games
Splice (continued)
Torchlight
Three years after the Windows version, Ubuntu users can now enjoy the Torchlight action role-playing game. In the game, players control a nameless hero who explores the town of Torchlight and its extensive shafts and mines.
Under Torchlight are numerous winding mine shafts with large deposits of Ember, the ore that provides all the magic. Unfortunately, overzealous miners frequently run into old mines from which vicious creatures surface (Figure 9). Valuable treasures also add to the adventure. Among these, is the magician Alric, who has been missing since ancient times. Thus, his distressed student Syl puts the player on a quest. Every game starts at a random place and no two games are alike.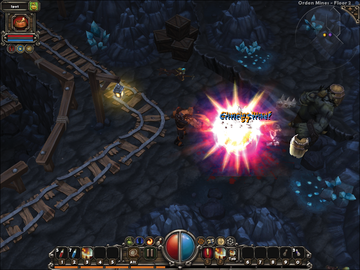 Initially, the player needs to create an alter ego. You can choose from three different character classes, each with its own strengths and weaknesses. For example, the Destroyer is a good and strong fighter up close, but the Vanquisher shoots better from afar and is particularly adept at setting traps for its opponents. The Alchemist evokes magic and an entire army of robots when needed. Additionally, each hero has a wolf or lynx nearby. The little animal companion fights actively alongside the hero, carries items for him, casts its own spells, sells items in town as requested, and transforms itself into a strong, battle-capable creature when fed with fish. The hero gains experience points throughout the games with which you can improve his strength, dexterity, magic, and defense. Each hero also has special abilities that you can improve and extend in different ways.
The caves contain countless items to be captured and collected. Trinkets include weapons, armor, and magic potions, scrolls with magical incantations, and, of course, gold. Each object has its own qualities: Worn armor can take fewer hits than brand new armor. The town of Torchlight acts as the trading center on the surface. You can sell your loot or buy better items there (Figure 10). A few residents have lucrative side jobs.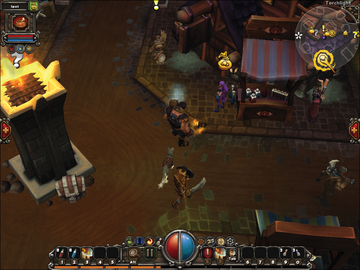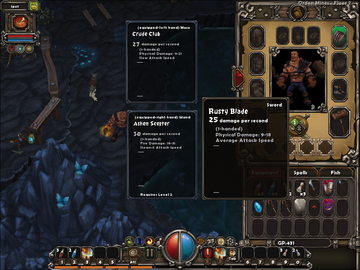 CONCLUSION: If you enjoyed Diablo [3], the game that inspired Torchlight, you'll also like Torchlight. The controls have been deliberately kept simple: A mouse-click is all you need for the hero to thrash an enemy or collect an item. Collecting items and giving the hero specialized skills becomes addictive, and the difficulty levels increase appropriately. However, it might take some time to get used to the somewhat overloaded user interface. Bottom line is that Torchlight is just the right thing for a long winter or rainy spring day.
| | |
| --- | --- |
| Homepage: | http://www.cipherprime.com/games/splice/ |
| Developer: | Cipherprime |
| Cost: | About US$ 10 |
| Age rating: | Not rated by ESRB |
| Requirements: | Current Linux distributions with activated 3D graphics, minimum 2GB RAM, 250MB free hard disk space, processor class Core 2 Duo 1.2GHz or better |
| | |
| --- | --- |
| Homepage: | http://www.torchlightgame.com/ |
| Developer: | Runic Games |
| Cost: | About US$ 15 |
| Age rating: | 16 years |
| Requirements: | Current Linux distributions with activated 3D graphics, minimum 1GHz processor and 1GB RAM |