Multimedia components and proprietary programs
Partners and Shopping Sources
Some proprietary applications like Skype and VMware View Client aren't offered in Ubuntu's standard repositories. Although these programs might be free, they're often under proprietary licenses and don't provide open sources.
These frequently requested third-party apps can be found in the Canonical Partners repository, which you must first activate. In Software Center, select Edit | Software Sources, click the Other Software tab, then activate the Canonical Partners entry. Again, it might take a while before the sources appear in Software Center.
The For Purchase repository contains mainly software that you can purchase through Software Center – among which is this magazine in various language editions. Developers usually release the content of these sources on their release date. When you select the software and click Purchase, Software Center links to the Launchpad login page. You can log in to (or register at) the Ubuntu One service and pay via credit card. Apart from official DVD players, you'll also find nifty games such as Family Farm (Figure 4), Oil Rush, and World of Goo. The same payment plan applies to the repository named Independent. There, you'll find mainly apps from external developers that put some minimal time into Ubuntu. Some of them are quite useful, however, because they're meant to handle smaller tasks.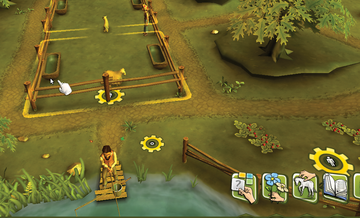 A few exotic file formats from the Windows world and some proprietary programs are available only in external repositories. If a movie won't run, usually integrating a Medibuntu repository [5] will help. Apart from libdvdcss2 , the repository provides MPlayer, Mencoder, fonts for Adobe's Acroread PDF reader, and additional multimedia codecs that are in non-free-codecs .
Adobe Products
Loading the flashplugin-installer package on your computer brings in the latest Flash versions direct from the Adobe website. You might have installed Adobe's PDF Reader from the partner repository in the past, but you will only need it if Ubuntu's Evince built-in PDF viewer breaks down – which does happen in rare cases with PDF files with 3D content or very complicated graphics with many levels. For reasons of security alone, you should avoid using Adobe Reader.