Convenient private cloud with Seafile
Shares
To share libraries with other team members, click the Share button of the relevant library, which you can use for groups as well as single members. To share files with individuals, each individual must have a Seafile account. If you specify the all keyword, you can share the library with all Seafile users.
Created shares appear on the like-named tab of the Seahub workspace. A single click is enough to clear the shares.
You can manage sharing individual files in the same way. Other users can see the shared libraries by using Start | Libraries | Shares.
Organization and Contacts
The Organization heading contains the public libraries, groups, and members that the Seafile server hosts; their numbers are indicated on the right of the screen. Although normal users can create only their own groups and public libraries, the user space is different: Individual users can add their own contacts (Figure 7).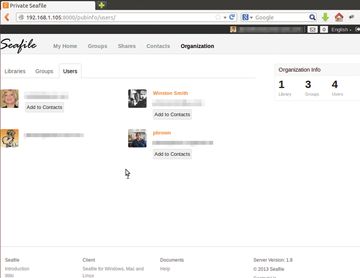 In this way, you can send messages from Seafile to your circle of contacts (Figure 8) or set up shares. Sharing libraries with others automatically makes them contacts. Users can view the header line for incoming messages.