Eight affordable games from Ubuntu Software Center
Motorbike
In typical motocross games, an off-road motorcycle speeds over bumps, the Motorbike game, however, adds a few more amusing obstacles along the way. These include freight containers and beer barrels to jump over, as well as the rusty loops of a roller coaster to engage in (Figure 14). It even has exploding mines and platforms that can be reached only by backward somersaults. The goal is to race the course in the shortest time possible. Motorbike has a total of 80 courses, with rapidly increasing difficulty. If that's not enough, you can create your own challenges with the built-in editor (Figure 15).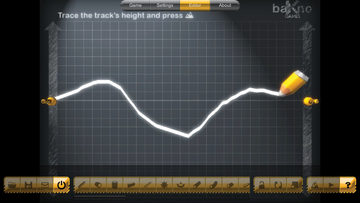 Even with the game's respectable 3D graphics, the player sees the action exclusively from the side. With a keystroke, you can set the camera on an angle. Different landscapes provide visual variety, including a canyon or icy mountains. Control is limited to four arrow keys that you use to accelerate, brake, and make the rider lean forward or back. Because the laws of physics apply, every shift in weight affects how the machine behaves.
For US$ 5, Motorbike provides a challenging skill game whose course editor can involve hours of planning and tinkering. If you want to check it out first, the homepage provides a trial version [2]. The makers of the other games described don't provide this option.
RC Mini Racers
The developer Decane promises motorsport in miniature: In RC Mini Racers the player races through the streets and gardens of an American suburb in a small, remote controlled car (Figures 16). To get to the finish as fast as possible, you can blast opponents' cars with rockets and mines or drag them away with a turbo booster. These tools are limited, so you need to consider carefully when to employ them. Apart from the classic race of five rounds there are also sprints that simply require speed.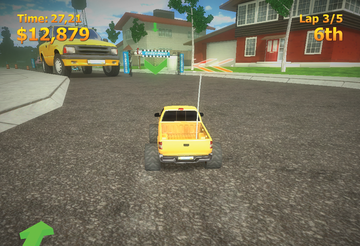 Players need to pay for courses and cars, earning the money by victories, bumpings and targeted removal or destruction of adversaries. The fastest course times and victories get bonus points. In the workshop (pimp shop), the player can change tires and upgrade his vehicle.
RC Mini Racers is outdated visually. You can clearly see that the game was originally developed by Decane for smartphones. Because of its lack of variety the game won't motivate in the long run, even the pimp shop won't help. Nevertheless, RC Mini Racers provides fast, uncomplicated, and fun racing for its US$ 5 price tag. The four different difficulty levels provide even beginners a good chance.
Ubuntu 14.04 will use Mir for the first time as the base for its user interface. Thanks to an intermediate layers named XMir, previous X11 programs can still run and, along with them, games. Unfortunately, Mir works only with the free graphics card drivers, which don't provide all the functions of their proprietary counterparts on AMD and Nvidia graphics cards. Thus, many games don't work at all, run very slowly, or have inferior graphics quality.
According to plan Ubuntu 13.10 therefore switched back from Mir to X11. As of Ubuntu 14.04, however, even this stopgap falls away. If the proprietary drivers continue to ignore Mir, players will have to opt for other distributions.