Editing mail with Geary
First Steps
After setup, Geary first calls up the list of messages and folders on the server. As with many clients, the program window is divided into three parts (Figure 3). The list on the far left includes the various accounts and their folders.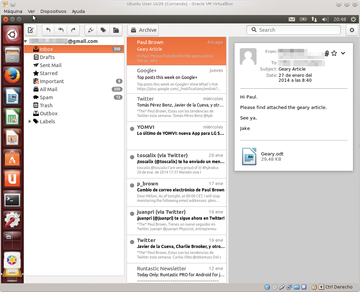 The middle area includes the list of messages for the selected folder, and the area on the right shows the message content. Scrolling with the keyboard through the list of messages automatically marks the elements as read – even those out of view.
Conversations
Geary breaks new ground in presenting messages. Whereas other programs create a tree hierarchy, Geary groups them into conversations , single threads of discussion. If responses to a message already exist, you'll see them as part of the conversation in an abbreviated form.
Geary also inserts a number next to the entry that indicates how many messages are part of the same subject. Instead of paging through the list of emails, you can simply click the newest message, which you then see in the right pane in full. All the messages for the same subject are in one place.
Clicking the preview opens all the other emails of the same context. Thanks to this linear view, you can better keep track of the conversation and more easily access its thread of replies.