Marble virtual globe
Moonstruck
Marble usually shows a topographical map that you'll likely recognize from your school atlas: rivers are blue, plains are green, large cities appear as small squares. At the bottom left of the main window, on the Legend tab, you'll find the descriptions for all the symbols and colors. Here, you can remove elements from the map. If city names are a covering up a feature you want to see, remove the checkmark before Populated Regions . If you want to remove the latitude and longitude indicators, deselect Coordinates .
You can add more global maps, such as road maps, by clicking the Map View tab at the bottom left and choosing another map type. A road map appears when you click OpenStreetMap (Figure 3). As the name indicates, the data comes from the OpenStreetMap project [2]. You'll need an Internet connection to access the maps.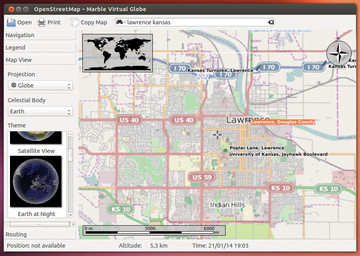 Navigating to a spot can take some time until Marble resolves it. The same goes for maps that show average rainfall. Satellite View doesn't show a current world picture but dates back to pictures published by NASA [3] in 2004. In this view, you can also see cloud cover, which you can remove with View | Clouds .
Finally, Marble shows not only the Earth but the moon. In Map View , you can click the Earth drop-down list and change to Moon . You can also use File | Download Maps to get additional maps, including quite a few exotic ones, such as historical globes, a map of climate zones, and even representations of Saturn and Mars. Once you choose a map, click Install , and it will become available in Map View .
Searching
If you're searching for a particular place, enter its name in the Search field in the upper left of the main window. Marble begins building results as you type and, as soon as you press the Enter key or choose a suggestion, a list of all possible locations appear and marks them on the globe.
The search results might come up with odd results at times. For example, Marble found several instances of Lawrence – apart from the hometown of Ubuntu User – all in different parts of the US (Figure 4). Clicking an item in the search list takes you immediately to the location, while maintaining the zoom status.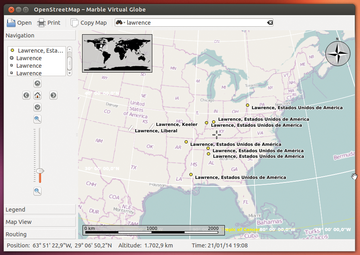 Clicking the house icon in the navigation bar returns you to the default view, which can be useful, for example, if you happen to land in the Sahara. The default location is about 10,000 km above Europe (as in Figure 1). To set another default location, go there in the main window and click Bookmarks | Set Home Location .