Support for Open Source projects
The Right Platform
To get supporters' attention, it helps to have the proper communication channels targeted to a thematically appropriate audience – through blogs or advertising or events. The existing larger platforms that specialize in crowdfunding usually integrate this process from the ground up.
Internationally established crowdfunding platforms include Kickstarter [10], Indiegogo [11], Inkubato [12], Betterplace.org [13], and Goteo [14]. These are more or less universal platforms, although the last three are located in Europe. You may find local platforms that are better suited to your project.
Platforms that specialize in open source projects include Bountysource [15] and the Open Initiative [16], both of which started in the summer of 2013. The former includes such famous projects such as Qt, the Cinnamon desktop, LibreOffice, and NetworkManager, whereas the latter hosts the GIMP project (Figure 2).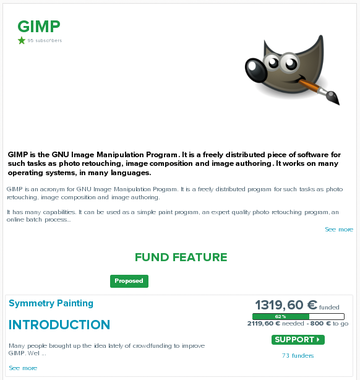 Tips for Beginners
Apart from a well-defined and meaningful project presentation, you must ask yourself why and for what you are seeking support. You need to indicate your financial need and how long your campaign will last. You also need to make sure you have a supply of merchandising, such as mugs or t-shirts with the project logo, for your supporters. A website that shows a funding progress bar will also help stimulate further donations. Fortunately, many of the mentioned platforms supply a widget that does just that.
You should also familiarize yourself with taxes (income and sales), legal information, and documentation. The account holder is responsible for the account where the supporters' money arrives. Private individuals must report the amounts as income, and companies must declare the taxable business income together with sales tax. Another thing you should factor in is that crowdfunding platforms usually charge a commission – usually from 5 to 10 percent of the total amount.
If you field support through a publicly designated bank account, it's recommended that you secure it with what's called a "write-only" account. This setup forbids direct debit withdrawals or has strict withdrawal policies and will help you avoid unpleasant surprises. Note that if choose to support a project, you should document all transactions and keep all supporting documents. Many donations can be tax deductible.