Support for Open Source projects
Widely Scattered
Even if you don't want to go through the hassle of organizing your own crowdfunding campaign, that doesn't mean you can't get small donations from the community. The following services don't aim as much at financing a specific item, as at ensuring a regular flow of money to a project. The goal should be to have as little money as possible going to third parties – after all, the project should benefit more than its service providers. These should certainly be remunerated, but within a reasonable framework.
Apart from banks and savings institutions, PayPal [17] in the US, Luxembourg in Europe, and Skrill in the UK [18] (formerly Moneybookers) are popular services for requesting donations. For the former, only the payee needs a PayPal account, not the payer. For PayPal and Skrill, you set up an email account that you then use for your login.
PayPal and Skrill take between 3 to 5 percent of each payment for themselves, depending on the country. The transaction usually takes just a few minutes worldwide. If you attach a bank account, you can forward incoming payments to it and manage everything from there.
A much cheaper alternative is to use Bitcoin [19]. Bitcoins are purely digital, crowdsourced currency, and there is no central bank or private bank that controls their flow, so there are no commissions.
Variants
What service provider you ultimately choose depends on your comfort level with them, the amount involved, and your circle of interested parties. Although PayPal is available worldwide, Skrill is well known in Commonwealth countries. Bitcoins are more generally accepted among IT folks, while traditional social groups still view them with a certain skepticism – if they're known at all as a payment method.
Services such as Flattr [20] and Kachingle [21] provide interested parties with an opportunity to distribute small amounts of cash over many projects. Both micropayment services allow use of digital content (e.g., photos, videos, and posting in blogs) and thus support their authors.
With Flattr, participants first define a fixed amount to be paid for monthly content that they find worthy of setting aside for support. Kachingle has a fixed amount of five US dollars. The supporter distributes the amount by clicking the corresponding button for the account on the web.
The more buttons that supporters click monthly, the more equal portions are split among the contributions. At the end of the accounting period, the company pays the shares to the authors, which the participants have "flattred." Figure 3 shows the Flattr page for GIMP.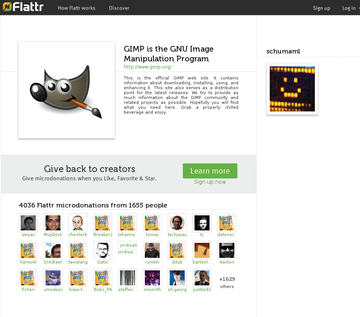 If you want to raise money for your project, it pays to design your website accordingly. The easiest way is to integrate one of the earlier mentioned services. PayPal provides a "Donate" button you can integrate in the HTML code of your page (Figure 4). Skrill has a WordPress plugin [22].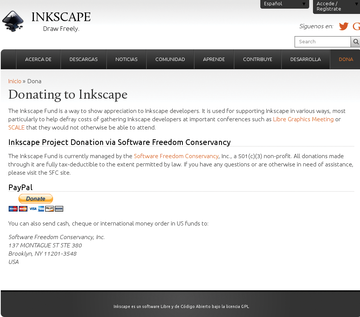 Alternatively, you can provide the bank connection and its usage as text on a transparent background to make data mining from the search services more difficult.