Designing Celtic knots with Knotter
Extended Functions
Knotter functionality can be extended through a plugin interface. In Plugins | Other , you can find some interesting tools that often create unexpected results. In fact, it might not clearly define what the outcome is until you've experimented with them.
The Plugins | External menu opens an interface for other applications. Here, you can configure editing programs for raster and vector graphics under Set up external programs option.
Knotter considers GIMP and Inkscape external tools, regardless of whether they're actually installed on the system. You can start the other entries in the External menu directly in Knotter.
Selecting Plugins | Insert brings up functions that could be on the Inkscape menu bar, although they can produce quite different results in Knotter. For example, if you want to create a star or spiral, these appear as node objects in the Knotter style. Nevertheless, you can create nice starting patterns that you can modify as you go along (Figure 5). Among the functions is one where you can add text.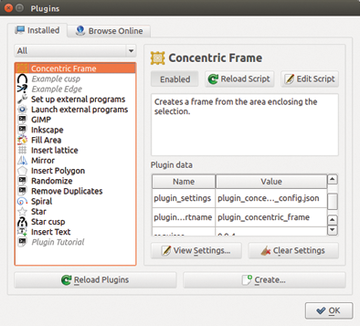 The settings for the plugins are in Plugins | Configure Plugins . You can activate and deactivate plugins or change their behavior. The few nonactivated plugins don't provide much added value in that Knotter already has the functions they supposedly provide. You can also download additional plugins, although no new ones are currently available.
Conclusion
The developers of Knotter have made effective use of what could be a niche application. The functionality is intuitive, even when the settings follow the "trial and error" principle. Sometimes, a function isn't well-defined in terms of its outcome.
The question of what software like Knotter really achieves is easy to answer. It's fun from a design viewpoint and is a fine diversion, especially for kids, on rainy autumn days. It also provides useful application opportunities.