More privacy in the Chrome web browser
Omnibox Nuisance
By default, Chrome contacts the predefined Internet search engines when you enter characters in the Omnibox and uses them to guess at other entries or further URLs "of interest." In doing so, the browser transmits extensive data on your system to Google or other search engines. Additionally, the proposals permanently influence in increasing numbers any future entries. Unlike Firefox, where you can make the Google search engine completely and permanently unlearn this seldom useful behavior with the YesScript add-on, this has only limited effect in Omnibox. To clear the auto-completion, uncheck the Use a prediction service to help complete searches and URLs typed in the address bar option in the Privacy settings.
This provides only partial success, however. Omnibox continues to offer proposals even with the option turned off. These continue coming in from the browser history and bookmarks. The longer the browser session, the longer the list becomes. To avoid this, click the Clear browsing data… button in the Privacy settings and choose the items to deselect (Figure 4).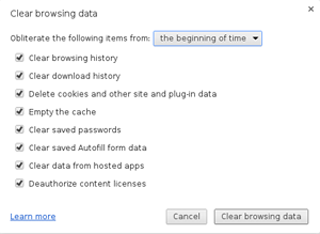 Eavesdropping Strangers
External eavesdroppers can also be spying on your browsing habits, especially the big ad networks. Chrome provides the same add-ons as Firefox to combat them. Among them, Adblock Plus and Ghostery can keep phishers at bay. Unfortunately, Adblock has been in the firing line recently because of its dubious business practices [5]. To install both add-ons, open Tools | Extensions in Chrome and click Get more extensions at the bottom of the page, which takes you to the Chrome web store. Choose the desired add-ons and install them by clicking the + FREE button. Then configure Ghostery, which localizes all trackers by default, but doesn't yet block them. To prevent all forms of spyware, click Select all in Ghostery (Figure 5).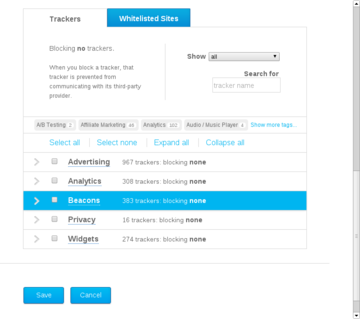 Unfortunately fingerprinting calls for disabling JavaScript, which can impact services such as Facebook and Amazon. To disable it nonetheless, in the Chrome settings, click Show advanced settings… and click the Content settings… button under Privacy . Under JavaScript , enable Do not allow any site to run JavaScript and click Done . Alternatively, install the Script Blocker for Chrome add-on from the web store, which allows enabling and disabling JavaScript for particular websites.