Toolbox for mass storage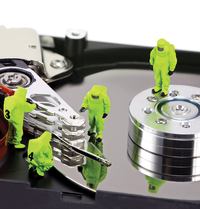 Intensive Care
Linux provides several tools for maintaining mass storage. Gnome Disks combines the most important functions into one interface.
Hard drives, because of their complex mechanics, are sensitive to vibration, heat, voltage fluctuations, and power outages. Since the 1990s, hardware providers, notably IBM and Compaq, have pondered how to improve performance security. The resulting different technologies ultimately resulted in the 1996 Self-Monitoring Analysis and Reporting Technology (SMART) standard that monitors many hard drive hardware parameters and triggers alarms when thresholds are crossed. Although the parameters haven't been fully normalized, they've been embedded in the firmware of almost all hard drives in various forms.
Jumble
Even though all SATA hard drives in familiar form factors support SMART, their corresponding values aren't always readable. External drives running over the USB bus in particular reveal the data only when the USB-to-SATA bridge electronics provide a data tunnel, which isn't the case with many of the cheaper external drives.
The same is true for external mass storage with universal plugs. Even some of the more high-quality external hard drives that operate with combined USB and Firewire ports to the computer can't have their SMART values read for lack of bridge functions – even if the hard disk on the external device is SATA compliant.
Even high-quality server hard drives that comply with the SAS specification don't always cooperate with the SMART. They need to support the SAT standard to translate the SCSI commands in the SATA command set. If in doubt when purchasing a new hard drive, you should carefully read the specifications. The manufacturer usually indicates in the data sheets if a mass storage device is SMART-compliant.
Software
To prevent data loss from corrupt mass storage, Linux provides countless tools and programs, including the Smartmontools, which are found in practically all distribution repositories. After installation, these tools provide extremely powerful testing capabilities on the command line that offer a huge number of parameters due to the range of functionalities.
Such functionality comes at a price, however. For example, it can be hard to figure out what you're looking for and seeing. A much simpler solution is to work with a graphical front end to Smartmontools, such as GSmartControl, which is also found in all major distribution repositories. A special place for such graphic interfaces for monitoring hard drives is reserved for Gnome Disks [1], which you can also install on other desktops beside Gnome. It combines monitoring software with different utilities for disk partitioning and benchmarking, so it can replace several conventional graphical front ends for monitoring and maintaining mass storage devices.