Toolbox for mass storage
First Start
After successfully installing the gnome-disk-utility package available in all major Linux distribution repositories (including Ubuntu) in 32-bit or 64-bit versions, type disks into the HUD. Clicking on the Disks utility then opens the program without requiring root privileges (Figure 1).
The program window is clear and highly intuitive. On the left, arranged vertically, are all the drives the utility has discovered. On the right are the details for a selected drive in a large area of the window.
Gnome Disks displays the partitions table as a horizontal bar and shows the current "health" of the storage devices as the Assessment on the right, along with its current temperature. Optical drives show data only for the currently inserted media. There is no traditional menu bar, and only one menu item: Disks , which contains three options.
Intrinsic Value
To view the detailed SMART values for a storage device, click the gear symbol in the upper right corner. This opens a selection menu with, among others, the option SMART Data and Tests… . A new window appears with details about the current state of the drive. The software doesn't list all the available attributes and values as some other tools do – just the current ones that the drive itself reports. The Assessment column reports the current health (Figure 2).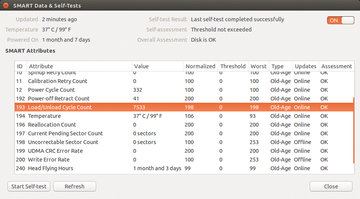 If you're confronted with unclear values, click the Start Self-test button at the bottom left of the program window to start one of three test routines. A test can take a few hours, depending on the disk size. To launch the test, select it from the menu and enter the root password. Gnome Disks then displays the test progress and eventually its results (Figure 3).