Toolbox for mass storage
More Power
Especially for traditional hard drives for mobile applications, it has become customary in recent years to factory-implement aggressive power-saving settings for the battery. You previously needed to correct these aggressive values for battery mode in Linux with a manual configuration of the parameters with help from the hdparm command.
In Gnome Disks, however, you can simply use the Drive Settings… menu item. Activate the Advanced Power Management through a button and adjust the slider somewhere between the end values Save Energy and Improve Performance . You can also use a slider to adjust the standby time for hard drives.
Performance
The performance tests that Gnome Disks provides go far beyond the capabilities of a mere status query. You can use them to derive the write and read rates of each partition, where you can define the number of samples for evaluating these rates.
To start the tests, select the partition and click the little gear symbol under it. Choose Benchmark… and Gnome Disks will take you through a few steps to determine how extensive a test you want and whether you want a pure read or write test. Before you embark on a write test, however, be sure to back up the partition to avoid any data loss risk. Gnome Disks then asks for your root password and executes the routine. The speed tests results appear graphically and meaningfully in a new window (Figure 4).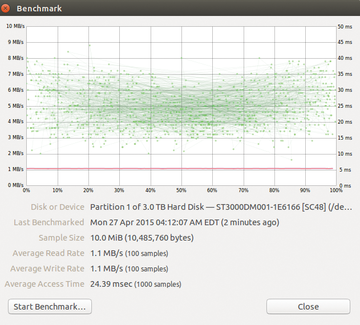 If you want to get speed results for the entire disk instead, click in the upper right on the gear button. In the resulting menu, select Drive Performance Test… . Gnome Disks then leads you through the same steps as for the individual partitions and displays the values for the entire drive.