Publishing books with LibreOffice, CreateSpace, and KDP
Tips and Tricks
Combining the LibreOffice and OpenOffice programs Writer and Draw provides many capabilities that can be put to good use. In the course of publishing, you will need various formats, each of which have associated requirements. For example, page numbers can't be missing from the table of contents in a printed book. E-book readers, however, will be looking for links to the book chapters.
These types of issues can be dealt with by including page numbers in the table of contents for the manuscript file. When exporting the e-book files, there are then two possible ways to separately prepare the content.
Purists can save a second manuscript file in which the page numbers are removed from the table of contents. Once this manuscript file gets exported to HTML, the page numbers will be missing but the links remain.
Practical types can open the exported HTML file in Writer. There, you can simply remove page numbers at the end of every line of the table of contents by hand. This method is usually quicker unless you have written something along the lines of War and Peace .
As authors of publications in the natural sciences can attest, setting up mathematical and chemistry formulas for printing is not much fun. Math formulas and equations usually cause the least problems because they can be put together with the internal formula editor of the LibreOffice and OpenOffice packages.
The editor simply embeds the formula as an image when exporting to PDF and HTML format, and it continues to be possible to edit the formulas at any time.
Chemistry formulas cause many more difficulties when setting them up for printing. To create these, you will need to use special programs like GChemPaint [9] from the Gnome Chemistry Utils [10] or programs that let you draw the structures and then export them as images (Figure 16).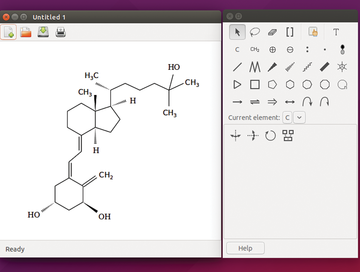 LibreOffice and OpenOffice can handle the export of tables to PDF or HTML without any problems. However, with embedded elements such as formulas, tables, or images, you will need to make sure that these objects are anchored to a paragraph and that text does not flow around the images.
The export process offers the last chance for exercising vigilance to prevent unpleasant surprises down the road.
Conclusions
After following all the steps outlined in this article, your book should have found a place in the Amazon e-book catalog. Optimizing the table of contents and careful anchoring of images, formulas, and tables to the relevant book sections will provide maximum reading enjoyment on an e-book reader. You save time, and your reading audience will be happy.
Remember that writing the manuscript will be the most time-consuming part of this project, and a well-structured manuscript file increases your chances of having a successful book. It takes approximately one day to convert a finished manuscript and publish it with CreateSpace and KPD. Typically, your work will have found its way onto the digital sales shelf less than 24 hours later.