A perfect Unity adapted to you
Unity Tweak Tool
Together with the Settings Manager for Compiz , the Unity Tweak Tool offers comprehensive options for customizing the Unity desktop to suit your own requirements. The Tweak Tool is installed in a terminal with the following command:
sudo apt-get install unity-tweak-tool
After installation, the tool turns up in the Dash search. Unity Tweak provides numerous options for customizing the desktop, organized in various tabs (Figure 3). If you want to fully customize the Unity interface, there is virtually no alternative to the Tweak tool.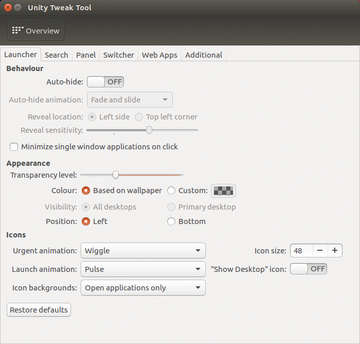 For each area, there are parameters, for example, for configuring windows, fonts, icons, mouse pointers, and much more. The tool is one of the most popular tools for quick and easy desktop customization. Among other things, you can define the transparency of menu bars or manage the themes installed on your computer.
Also note that the launcher can now be moved to the bottom of the screen in Ubuntu 16.04.
New Themes for Ubuntu
In addition to settings for the graphical interface, of course, you can also completely download and integrate new themes in Ubuntu. Examples of this include the Numix-gtk theme [4], which you can install using the commands in Listing 1.
sudo apt-add-repository ppa:numix/ppa
sudo apt-get update
sudo apt-get install numix-icon-theme numix-icon-theme-circle numix-gtk-theme
To enable the themes, you can again turn to the Unity Tweak Tool. Once you have installed the themes, call the Tweak Tool and find the menu item Themes with the appropriate entries for the theme files installed on your computer.
After installing the Numix themes, the program displays the new options. It also shows you the other themes installed in Ubuntu. To find more settings for themes, try a "Theme configuration" Dash search.