Use multiple distributions at the same time with Bedrock Linux
Double Track
There are two ways of installing Bedrock as a basic framework: Quick Start and Full Installation. Both give you the same results, and the distinction between them is thus a little vague. Full Installation offers much more influence on the many settings that you can tweak in Linux; on the other hand, this approach also entails greater danger of doing something wrong. Until you feel more comfortable with Bedrock, you will probably want to opt for the Quick Start [7].
Before you start, you may want to polish your knowledge of Bedrock and its specific concepts and terms in the section Concepts, Theory, and Terminology [8]. The Stratum Setup instructions [9] provide instructions for the main distribution groups.
Piggyback
As I mentioned previously, you install Bedrock within a different Linux distribution – you are free to choose which one. It make sense to use a freshly installed system that you create on a large partition. Bedrock itself requires only a little space (Figure 3), but for each piggyback distribution you install, you will need between 10 and 15GB free space.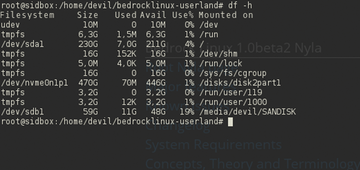 For the installation of Bedrock, you need to install any Linux toolchain tools missing on the host system; the Quick Install Guide goes into detail on this. Then, as a normal user, download the 500KB Bedrock code from GitHub and type make to create a Bedrock tarball of about 5MB.
Now unpack the tarball in the root directory of the host system. To do this, type su or sudo-s to assume administrative rights, cd / to the root directory, and use tar to unpack. Further commands ensure that all of your distributions find an appropriate infrastructure. This completes the installation of the basic Bedrock distribution, or stratum in the jargon of the Bedrock developers. This is a "kidnapped" basic installation that is now ready to house more distributions. There is already a fallback , or rescue system, that you create automatically when you install the system.