Video effects and compositing with Natron
Registration Requirement
The developers offer Natron in various package formats. You only have to select and download the package suitable for your distribution [3]. If you have any doubts, you can click on the yellow box, which downloads a .tar.xz archive with statically compiled binaries. The download only starts once you have registered on the Natron website, although you pay no fee for doing so. If you do not want to register, you need to get the source code from GitHub [4] and compile it. Once the .tar.xz archive is decompressed, all that remains is to start the Natron script.
Figure 1 shows a preview window at the top left. Aside from the videos located in the gray rectangle, nothing else appears in the film generated by Natron. The additional space surrounding the rectangle can be useful when you want to insert a second clip into the scene. In the lower left, you put the effects together. Their properties appear in the sidebar on the upper right edge under Properties. Inside a few moments, you view the basic properties of the film under Project Settings.
Retrieved
You should make sure that the the lower left area shows the NodeGraph register. It displays each video piece and every effect as a small box or node. The Viewer node already located there works with the preview monitor in the top left area. The black lines leading from the nodes are best thought of as video cables. Because these are not connected to anything at first, the preview presents a black image.
To change this, right-click anyplace next to the Viewer and make a selection from the Image | Readers | ReadFFmpeg menu. Then select a video file from the hard drive. After clicking on Open , Natron creates a new node that represents the clip and then labels it ReadFFmpeg1 . At the same time, extensive information about the file appears at the top right in the Properties box (Figure 2).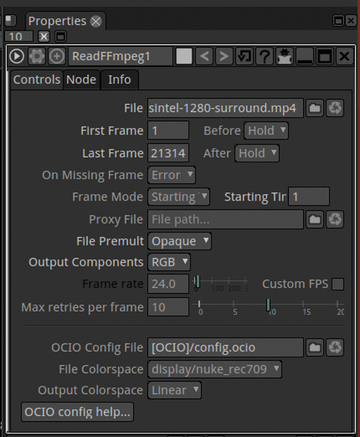 Additionally, Natron should have connected the nodes with the first input of the preview. Here the ReadFFmpeg1 node reads the video from the hard drive and transfers it to the viewer in the upper left, where it is finally viewable in the preview. Under the preview you have a timeline and various playback buttons (Figure 3). For example, the triangle symbol sitting to the right of the frame number at the bottom is used to start a film.