An LXDE-like desktop made with Qt
Focus on Qt Applications
LXQt 0.11.0 has a suitable number of lightweight applications that are based on a Qt foundation wherever possible. Useful tools for the desktop include Zim, a "desktop wiki" for writing notes or charting out a multi-page, hyperlinked document; and conman, a utility used for connecting to remote consoles. Firefox helps you navigate the Internet.
As mentioned in the "Installing LXQt" box, you need to install Openbox, a window manager, to actually get the desktop up and running. You also can install others: xfwm4 from XFCE is prettier, sleeker looking, and light. If this choice of manager does not resonate with you, then you can simply install and choose another one, for example KWin (sudo apt install kwin ) and change from one to another using LXQt settings | Session Settings .
I discovered that installing the lxqt package with
$ sudo apt install lxqt
was not enough. When I tried to log into the desktop, it would ask me to select a window manager, with no hint of where to find one. It turns out LXQt also requires Openbox:
$ sudo apt install openbox
Once that is installed, LXQt boots without any problem.
You can get a dock by installing Plank (sudo apt install plank ). Run Plank from the Accessories submenu. When it pops up at the bottom of the screen, hold down the Ctrl key and right click on the dock to move it around, for example, to the top of the screen, away from the bottom panel (Figure 3). If you have a wide display, it may make sense to move the dock to the side of the screen. If you want to add a new app to the dock, just open it; when its icon appears in the dock, right click on it and choose Keep in Dock . To remove an app from the dock, click and drag it out of the dock, and it will literally disappear in a puff of smoke.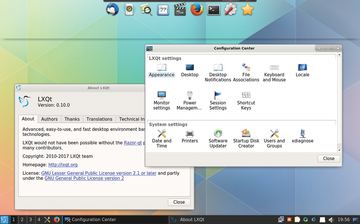 Conclusion
LXQt is an appealing and easy-to-operate desktop, especially for Qt fans. It has a footprint that is only slightly larger than that of LXDE. This makes LXQt great for extending the life of older computers. The super-customizable desktop can be adapted to the taste of each individual user.