Installing multiple operating systems on a USB storage device
Safe is Safe
Setting up a larger flash memory with MultiSystem can take a great deal of time when the memory contains numerous operating systems, especially if some have been configured with persistent memory. The loss of a prepared stick can be very annoying. This is likewise the case when a defect that causes the loss of data. MultiSystem offers a backup and restore option for quickly reconstructing USB memory. You can find this option in the Menu . Clicking on the Backup/Restore button opens a window that lets you set a radio button for backing up and restoring removable media (Figure 7).
A backup can run with a file manager's help in the directory of your choice. Restoring the medium requires that you pay attention to the drive. This is because multiple removable media may be mounted on the system. Errors in assigning the drive may destroy data since the routine overwrites existing files on the target storage device.
Test Run
MultiSystem comes with a number of routines for testing a newly set-up system's functionality. As a result, you can use them on virtual Linux systems like KVM/Qemu or VirtualBox. With many distributions, the latter can be conveniently installed from the repositories. In order to proceed with testing, you should select the Boot tab in the MultiSystem's program window. Out of the list of options that appears, you should choose one of two buttons, either Test your liveusb in Qemu or Test your liveusb in VirtualBox (Figure 8). Both of these options start a ready-to-use, preconfigured virtual machine, and they open the MultiSystem stick in a terminal window. Once this occurs, you can start the operating system you want to test from the GRUB boot manager on the stick.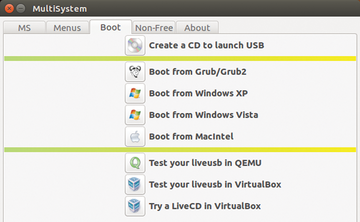 Should problems occur, you can test individual ISO images that have been used to generate an operating system on the MultiSystem stick by selecting the Try a LiveCD in VirtualBox option in the Boot tab. Then drag and drop the ISO image you would like to test from a file manager to the entry field for the test routine. The image then starts.