Installing multiple operating systems on a USB storage device
Adaptable
There are several options you can use to customize MultiSystem after installation. Go to the program home screen and click on the eye icon that sits to the left of the distribution list. A multi-column area with a variety of buttons will appear on the right side of the screen. The arrow buttons let you move individual entries in the GRUB start menu up or down so that you can arrange the distributions in a convenient sequence. In addition, the GRUB settings button has a number of settings with which you can determine how the start menu should look. For example, you can change the colors for the menu and the background.
The Add a boot option (cmdline) button lets you set customized parameters for each start entry. A special window will appear once you choose this button. It contains several options for the transfer to the boot process already displayed. An option becomes active once it is checked. The entry field you see will also let you configure start parameters to the system for specialized hardware that you would prefer to use with the MultiSystem stick (Figure 9).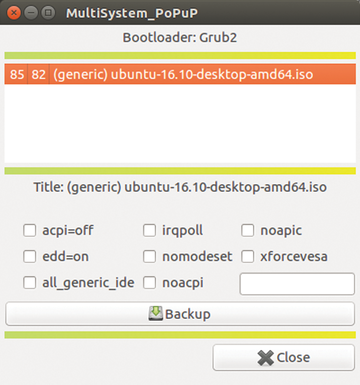 Start Support
When using the MultiSystem stick on older computer systems, you run the risk that the computer and stick cannot talk to one another. Older computers do not have sufficient capabilities for starting from USB media. If this is the case, it can help to generate a boot CD that then talks to the USB. The PLop boot manager is suitable for this task. This manager is available for download in the Non-free tab in the MultiSystem program window.
Switch to the Boot tab and click on the button Create a CD to start USB . The software will now generate a small ISO image, which you should burn to a blank CD. Then you should insert the MultiSystem flash stick into one of the USB ports on the target computer and put the CD into the optical drive. The computer will start the CD. The PLop boot manager that the CD loads provides the computer with access to the MultiSystem stick and lets it boot the desired distribution.