Making Firefox lean and secure
Data Reports
The web browser collects data on the status of the software and crashes in the subdirectory datareporting within the hidden Firefox directories. If no changes have been made to the default settings, the software will also transfer this data to the Mozilla servers.
Even if the settings have been modified to prevent data transfer, Firefox continues to collect the data and store it locally. Although the amount of data collected each time is very small, intensive browser use can quickly lead to hundreds or even thousands of files for which you have no use.
In order to permanently stop the browser's habit of gathering up data, you will need to head over to the manual configuration dialog about:config page again and should look for the datareporting option. By double-clicking on the line datareporting.policy.dataSubmissionEnabled , you will set the option value to false if it was previously set to true (Figure 3).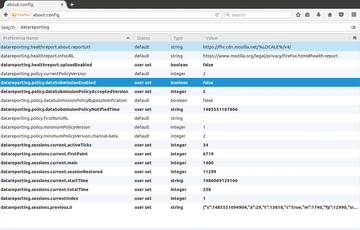 This procedure works a bit differently for Firefox versions 40.x or lower. If you have one of these older versions, you should set the entries datareporting.healthreport.uploadEnabled and toolkit.telemetry.enabled to false . In the interest of security regardless of the version you are using, you can also delete the address for the Mozilla servers.
The Cache
In addition to saving data permanently, Firefox also tries to speed up load times for websites through various means offered by caching. In the process, the web browser uses working memory, the hard drive, and SSDs as a buffer.
Especially when you are using an older hard drive that is slower, you will forfeit quite a bit of speed when there is frequent access to bulk storage. It therefore pays to keep an eye on the cache memory and to delete it if necessary. Although Firefox offers suitable options for this task in the Preferences | Advanced | Network menu, these settings are difficult to access and monitor.
The Cache Status [1] add-on provides a solution for these difficulties. When installed, you will see two icons to the right of the address field. These two icons constantly keep you informed of the current assignment of memory space in kilobytes. This gives you an overview of the cache.
You can set the maximum size you want for the cache memory using the add-on's dialog. Go to Tools and then Add-ons and pick the Extensions tab (Figure 4). To empty the cache, you will need to right-click the icon in the address bar and select Delete entire cache from the Context menu. Given all of the data privacy and security issues that may arise, it is a good idea to empty the cache after each session.