Multimedia components and proprietary programs
Partners and Shopping Sources
Some proprietary applications like Skype and VMware View Client aren't offered in the Ubuntu's standard repositories. Although these programs might be free (as in beer), they're often under proprietary licenses and are not provided with open sources.
These third-party apps can often be found in the Canonical Partners repository that you must first activate. In Software app, click on the Ubuntu Software drop-down menu and then on Software & Updates , click the Other Software tab, then activate the Canonical Partners entry. Again, it might take a while before the sources appear in Software Center.
The For Purchase repository has completely disappeared from Ubuntu 16.10. If you want to buy games, we recommend you install Valve's Steam with
sudo apt install steam
Steam for Linux works exactly the same as for Windows (Figure 4). However, remember that not all the games you can find for Windows work on Linux. Use Steam's search functionality to find what you're looking for and, in the column on the right, under the Narrow by OS section, click the SteamOS+Linux (Figure 5) to limit the selection to programs that work on Ubuntu.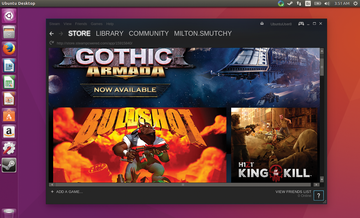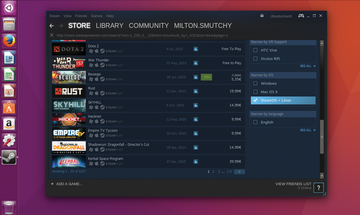 GOG also provides games for Ubuntu now, and a command-line utility called lgogdownloader helps you manage downloads, updates, and purchases from the site.
That said, you can download some very cool free software games from the preinstalled Software app. Click on the Games category, and you'll find a wide range of action, arcade, simulation, and puzzle games. Among our favorites, Minetest , a fantastic open source mining, crafting, building, and survival game; 0AD , a gorgeous-looking, civilization-building strategy game; PokerTH , which allows you to play the Texas hold 'em variant of poker against computer rivals, on a local network or on public servers on the Internet; and finally, a front end for the MAME emulator, which will let you play thousands of classical arcade and console games on your desktop.
Adobe Products
Loading the flashplugin-installer package on the computer brings in the latest Flash versions direct from the Adobe website. You might have installed Adobe's PDF Reader from the partner repository in the past. But, you will only need it if Ubuntu's Evince built-in PDF viewer has break down opening a file – which does happen in rare cases with PDF files with 3D content or very complicated graphics with many levels. For security reasons, you should avoid using Adobe Reader.