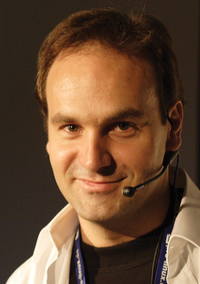 Mark Shuttleworth Closes Bug Number 1
Mark Shuttleworth, founder of Canonical and of the Ubuntu Linux distro, closed Bug Number 1 on May 30, 2013. Bug Number 1 was filed in the Ubuntu bugtracker on August 20, 2004, two months before the release of "Warty Warthog," the first version of Ubuntu. The bug, filed by Shuttleworth himself, simply stated that "Microsoft has a majority market share" and went on to explain:
… This is a bug which Ubuntu and other projects are meant to fix. As the philosophy of the Ubuntu Project states, "Our work is driven by a belief that software should be free and accessible to all."
Nine years later, the proprietary bug has not been entirely solved (and Ubuntu itself has accepted many proprietary programs into its own fold), but Shuttleworth cites the changing proposition in personal computing as the reason for marking it as solved.
Personal computing, Shuttleworth explains, is not limited to desktop and laptop machines, having spilled over to mobile phones and other devices. He makes the point that, even if Ubuntu has not become the most pervasive operating system for personal computing, at least Android, which is also open source, is en route to do so.
Ubuntu Phone Carrier Advisory Group Formed
Apart from videos that are surfacing showcasing the technical advances of Canonical's Ubuntu Touch phone operating system, the company is also making headway in getting support from carriers.
The company recently founded the Carrier Advisors Group to lure carriers into supporting their platform. Members of the group will not only be able to shape what Ubuntu Touch ends up looking like, but also call dibs on bringing the system to market on their own handsets. Non-members will have to wait before gaining access to the platform.
At the moment, eight companies, Deutsche Telekom, Everything Everywhere, Telecom Italia, Korea Telecom, LG UPlus, Portugal Telecom, SK Telecom, and an unnamed "leading Spanish international carrier," which probably means Telefonica/O2, have joined the group. CAG is independently chaired by David Wood, who has previously served on the board of Symbian and the Open Mobile Alliance.