Create 3D characters with MakeHuman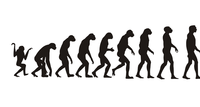 Evolution
MakeHuman lets you create characters that you can integrate into Blender and other 3D applications or graphics programs.
Blender is a fabulous tool for creating 3D worlds. What's missing, however, are realistic human characters to populate these worlds. Of course, you can always create animated 3D characters in Blender when you need to. However, the effort can cost you your sanity, and the process is needlessly complex for many applications. Often, all you need is one or two human figures to liven up a scene, not even necessarily animated, but just standing there.
With Windows and OS X, many artists turn to Poser to create a human figure out of a standard character to fit the scene: They set the skin, hair, and clothes, make the model strike a specific pose (which gives the software its name), and they're done. Now, you can do the same with the open source software MakeHuman [1], which can be used not only with Linux but also on Windows and Apple computers. The Python-based software can be adapted to virtually any system, however, creating poses or movement does require interaction with the likewise free and open source Blender.
In Ubuntu, you can already find MakeHuman in the repositories – albeit a slightly outdated version. Therefore, you should visit the project website and download the current version, which is in .deb format and can be installed via the Software Center (Figure 1). The actual installation can take a while and requires some patience in that no progress status is provided.
Breaking New Ground
When you start MakeHuman, the program displays a rather generic-looking character that forms the basis for your customization (Figure 2). You automatically land in the Modelling menu, where you can start morphing the character.
In the Main pane, you enter some general parameters, including gender, which you can vary from 100 percent female to 100 percent male (which shapes the body proportions). You then set the age, weight, and height. By sliding the Muscles and Proportions controls, you can change a couch potato into an athlete, and the African , Asian , and Caucasian sliders determine the skin color, shape of the head, and placement of the eyes (Figure 3).
Body Forming
Once you determine the general form of the figure, you can start adding details. Whereas the main settings determine the gender, the Gender menu sets the specifics – for example, breast sizes for women or genitalia for men. MakeHuman also provides settings for Face , Torso , and Arms and Legs . The face has some extra naturalistic settings. Because a person's face is rarely totally symmetrical, you can set left and right eye and ear dimensions separately (Figure 4). If the image becomes too overloaded in detail, you can always revert to the symmetry function.