Modify PDFs page by page
Tailoring
To remove single pages from the loaded document, you can select noncontiguous ones with your mouse with the Ctrl key pressed. Then, either click the red cross icon on the button bar or press Delete to remove the pages (Figure 2). You can then save your modified document using the disk icon or the File | Save as menu item to save it under a different name.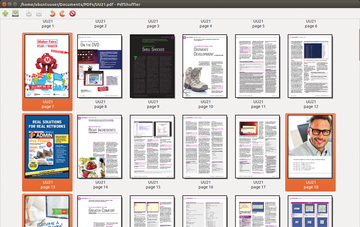 Rotating
Documents that contain, for example, horizontal tables rotated in portrait view may especially need a format change to make them readable. Although a printed document can simply be turned 90 degrees, viewing the pages on the screen or with a projector requires considerably more effort.
In PDF-Shuffler, you simply select the pages to be modified and use Edit | Rotate right or Edit | Rotate left . This action rotates the pages so you don't have to twist your neck looking at tables. Of course, you can save the document in that form to your hard drive.