Modify PDFs page by page
Cropping
Occasionally, you might want to get rid of some distracting advertising on a page. PDF-Shuffler has the Cropping function for this. First, select the page and then with a right-click choose Crop… . The software opens a window where you can specify integer percent values to crop for each page edge.
PDF-Shuffler immediately renders the results visually so you can see just how much was cropped. To modify the percentage value, you can simply call up Crop… again and correct things in a matter of seconds (Figure 3).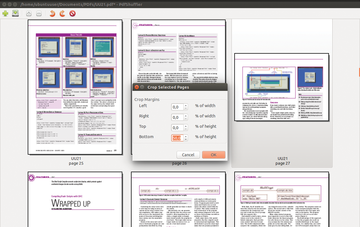 Combining
Naturally, PDF-Shuffler also provides the option of merging several PDFs into one. Load the selected files into program window and give the merged documents a single filename.