Modify PDFs page by page
Moving and Duplicating
PDF-Shuffler can help you reorder the pages in a document by dragging and dropping, although only with full pages. You simply select pages that need copying while pressing Ctrl and then drop the copies into another location.
Of course, you can also move and copy pages simultaneously without having to save the document each time (Figure 4).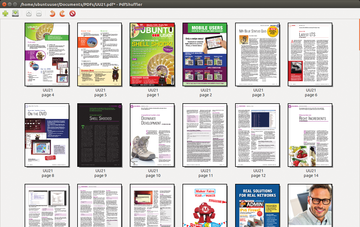 Conclusion
PDF-Shuffler allows easy and fast page-by-page editing of PDF files. It works reliably and quickly even with large PDF documents thanks to its light footprint. The intuitive operation and the lack of extensive menus let you get started right away.
The software is ideal for users who want to cut out magazine articles and reassemble them as desired. You can also use the cropping tool to remove page elements you're not interested in. The software is primarily for users who don't need to make text changes to PDF documents but want to reformat them for readability.